Northern alumni makes hand-crafted jewelry
Julia Bolton of Jack Pine Silver channels natural elements through her unique art
While in high school, Northern alumni Julia Bolton was never given the opportunity to take a class focused on the fine arts. But during her junior year at NMU, she found some room for an elective in between her environmental sustainability classes and decided to finally test her creative abilities. 
Well aware that she could not draw or paint very well, Bolton was looking for a form of creative expression that was much more hands-on. When scrolling through the course offerings, she stumbled upon a class that prompted her to undertake a non-traditional art form instead:
An introductory course on jewelry and metalsmithing.
"I knew I wanted to take an art class, and metalsmithing just struck me as something fun to do," Bolton said. "But I just fell in love with it and then decided to keep going with it because I really liked it."
Since completing the course, Bolton has gone on to establish Jack Pine Silver, her own jewelry business. While the 23-year-old has been handcrafting earrings, necklaces and rings since February 2021, the business was just recently officialized as a legal entity in November 2022. 
Primarily web-based, Jack Pine Silver mainly features goods crafted out of sterling silver. This choice of metal was deliberate by Bolton, who has incredibly sensitive skin and was unable to wear jewelry made of nickel — which is one of the most common metals being used in the manufacturing of cheaper jewelry. Alternatively, sterling silver is a hypoallergenic metal and is free of skin irritants often found in nickel, copper and cobalt.
"I never really grew up wearing jewelry because it was always usually nickel and my skin would react. I never wore earrings before because my ears were just always super itchy from it," Bolton said. "Sterling silver doesn't make you itch or anything, so I like to primarily use that."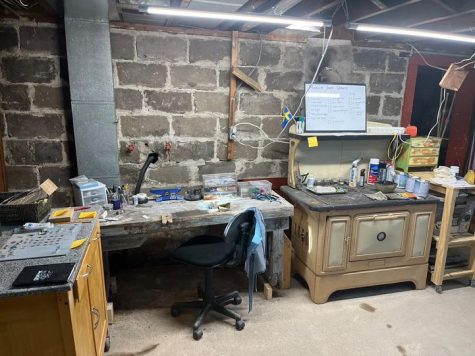 The jewelry-making process for Bolton begins after purchasing several sheets of stainless steel and bezel wire. Bolton's pieces are often centered around stones, like turquoise, which she sources from specialists across the country. After selecting a stone to work with, Bolton will wrap it in bezel wire, cut out a uniquely shaped backplate and solder the two together.
Jack Pine Silver currently operates out of Bolton's basement, which contains a long bench with a pin for sawing, a table with finished pieces and an old wood stove that is being used for all soldering. Dependent on the type of jewelry she is making, the process can vary from three hours (rings and necklaces) to seven hours (large earrings). 
"It is a little nerve-racking because I am like 'oh my gosh I just spent so many hours on this one piece, the stone better fit in there' and I have had times where it doesn't quite fit in and I am like 'ok, now I am going to have to redo the whole entire piece,'" Bolton said. "But I feel a big sense of accomplishment after it is all done."
On certain occasions, Bolton will use beach glass that she hand-picked from Lake Superior.
"I also really like to use beach glass from Lake Superior because it is super unique," Bolton said. "I love having a little piece of the lake in my jewelry."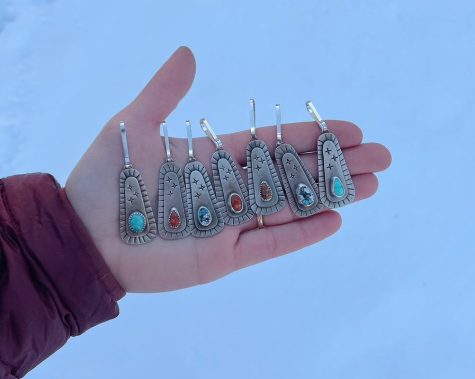 Jack Pine Silver only offers unique items. Most of the time, Bolton will produce several pieces of jewelry and list them on her site, where they will sell on a first-come, first-serve basis. The shop does also offer custom pieces, which Bolton enjoys doing as well.
"A friend of mine had a bunch of pieces of sea glass and she wanted seven necklaces made for her bridesmaids," Bolton said. "Those are fun because I love seeing other people's pieces too, like when people bring me the really pretty blues and all of these fun pieces that they have a sentimental attachment to."
Jack Pine Silver is currently a part-time gig for Bolton, who is currently working as an English language learner tutor at Marquette Area Public Schools. Despite never imagining herself as a small business owner, Bolton hopes to craft jewelry full-time in the future. 
"I feel like I am not necessarily a super outgoing or proactive person, but I fell into this and was like 'I love it so much and I am going to do whatever I can to make it work,'" Bolton said. "I was nervous about what the process looked like, but I contacted the Lake Superior Community Partnership and they were super helpful with [the process]."
In addition to her online shop, Bolton and Jack Pine Silver can be found on Instagram (@jackpine_silver), at the Marquette Farmers Market and Amelia's Craft Market & Boutique on Front Street — where her jewelry is currently being featured.
Just like her business's namesake, Bolton continues to be inspired by the natural elements of the Upper Peninsula when creating her pieces. 
"Because I didn't grow up with a very artistic mind, it is definitely hard for me to get into that mindset," Bolton said. "But it really comes from nature and comes from what I see in a piece, then I play off that natural shape."