Platform Personalities on Steve Burns: Mental health, childhood nostalgia, Marquette winters
According to Platform Personalities Co-President Amber Essenmacher, Steve Burns might not have been ready for the power of Upper Peninsula weather.
"We took him downtown before we came back to campus for the event," Essenmacher said. "We drove through and pointed out little shops to him. He was like, 'I'll go for a walk later,' but he didn't bring a winter coat because he didn't think it was going to be super cold here. He didn't even have a winter hat or anything."
Before he left, Burns received an NMU hat to remember his trip to the UP a reminder of the chilly weather. 
The decision to have the "Blue's Clues" star come to NMU began months prior, when the student group Platform Personalities was contacting agents to secure guest speakers and performers for the semester. Students helped make the final decision through a poll that was sent out. Out of all the potential guests to bring to NMU, Burns received "a lot of support" from the student population said Bailey Gomes, co-president of Platform Personalities.
Essenmacher said the group put in orders for posters and placed advertisements during hockey games for Burns' arrival, but the biggest draw happened when Burns sent the student organization a video of himself addressing the viewer in the same style as he did on "Blue's Clues." The video was posted to the Platform Personalities Instagram page, and quickly prompted a social media response.
"That was really, really great," Essenmacher said. "And I think in the future, we might request those from speakers because it was really awesome for our marketing."
Gomes called the event "fantastic," with around 450 tickets being sold. Essenmacher said that they had to bring in extra chairs just to fit everyone in attendance. Both Gomes and Essenmacher described Burns as down to earth.
"He was very genuine and honest," Gomes said. "Especially about his mental health. It was very refreshing to hear him talk about those things … even though people call him a role model, he said 'he's still just a person, and he still struggles with the same things that other people struggle with.'"
Gomes in particular expressed enjoyment with the event, as they were the one who sat next to Burns onstage to ask questions and guide the conversation. Some of the topics Burns talked about were his time on the children's show "Blue's Clues," how rumors that he died impacted him and the importance of taking time to address your mental health and discussing it with others.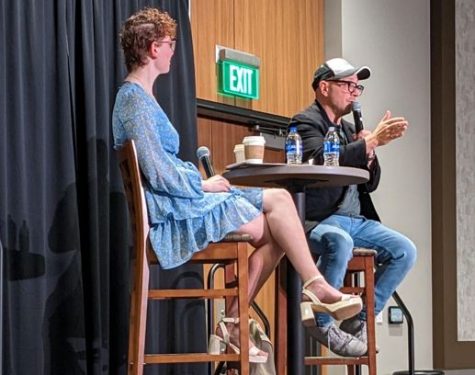 However, Gomes also mentioned that the tone of the event was far from gloomy. Instead, they said the tone of the event was more "nostalgic," and that Burns was at times funny, motivational and overall gave a sense of gratitude to many people at the event.
Afterwards, there was time for a meet and greet, which Gomes noted that Burns stayed an extra 15 minutes to see everybody who waited in line.
"I'd say that this was a very popular event," Gomes said. "People seemed very excited for it, and the people who did come were very enthusiastic."