Exceeding expectations: Joseph Calderon's return to higher education
How a non-traditional, first-generation student came to excel at NMU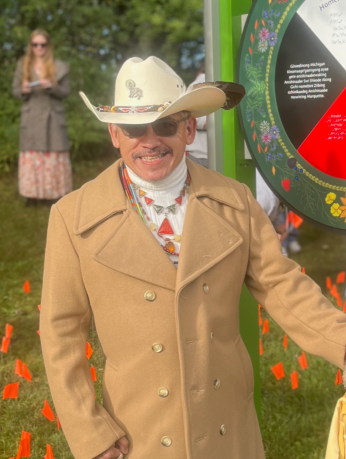 A successful return to higher education after a gap year is a difficult feat to accomplish. For some, the long lectures, late-night study sessions and prospect of failing an exam can seem unbearable to jump back into, especially after an extended period of being free from such obligations. 
Despite the odds being stacked against him, Joseph Calderon, a 62-year-old Indigenous man from Southern California, decided to return to higher education in 2021. After bouncing from one West Coast college to the next, two of the four of which he flunked out of, Calderon was called to Marquette in 2019 — nearly 20 years after he had last set foot on a college campus. 
After connecting with the Native American Student Association (NASA), Calderon was introduced to the Michigan Indian Tuition Waiver, a gift that has allowed him to attend NMU tuition-free for the past two years. 
"The precedent is that Indigenous people come [to college] and flunk out, and they generally don't ever come back to higher education. They just don't," Calderon said. "I experienced that four times in California, so I want to show kids that it is possible."
Now in his second year of being a Native American studies major and music minor, Calderon has been excelling well beyond his wildest beliefs. Despite having a poor track record at previous universities, Calderon was able to transfer 70 credits to NMU. This allowed him to receive an associate's degree in general studies with high honors in May 2022. 
But Calderon's return to schooling has not been a walk in the park. After a bumpy first semester that left him feeling alienated by the university, Calderon was unsure whether he was cut out for the work that accompanies post-secondary education. But after being told that he needs to "prove himself" to keep attending NMU, his response was more than enough to put everyone that had doubted him back in line. 
"After that first semester, the next semester I got a 4.0," Calderon said. "I figured that is the best revenge, and that is what partially drives me."
Since then, Calderon has continued to study hard for his courses, connect with professors and utilize the many services that NMU has to offer. Of all the classes he has taken, Calderon said he has benefitted most from introductory writing courses. Despite having his first-ever paper "ripped to shreds," he was glad that his professor took the time to mark every error and return it to him.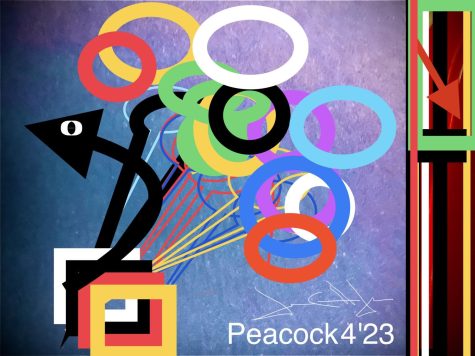 "He didn't have to do that, but he cared enough to take the time to show me the ropes," Calderon said.
Thanks to this professor, Calderon was able to excel in the several writing courses he went on to take.
"I used to be really afraid of writing, but now I know how to write and all of the disciplines. It is wild," Calderon said. "When I submitted the final draft, my professor walked up to me and it had a 100% on it. I couldn't believe it." 
However, all of the challenges in his return to college were not the only obstacles Calderon has been forced to conquer in his lifetime. After suffering from a stroke in 2013, he was left with only 40% mobility. This setback kept Calderon from doing many of the things he loved, including singing and drawing. 
But rather than folding to such circumstances, Calderon did everything in his power to continue pursuing his creative passions. In addition to minoring in music, where he works his vocal cords to the best of his abilities, he also continues to create digital art. His skills have been recognized by the local community, and the artist recently submitted, for consideration, a five-image digital portfolio to NMU's DeVos Art Museum as part of their "North of the 45th" art exhibit.
"I picked up [digital design] because of the stroke. I can't draw anymore, but I kind of can," Calderon said. "I have one drawing of my dog …. He was sitting on the floor, and I picked up my sketchbook and my pen with my left hand and I was trying to draw the contour lines of him, and they looked horrible. But I just kept working on it … and it was very successful."
Calderon said the ability to ask for help is what has gotten him through the past two years of his undergraduate journey. Within that, he also emphasizes the importance of reciprocity — or understanding that what professors are giving students day after day is an immense gift that can never be repaid.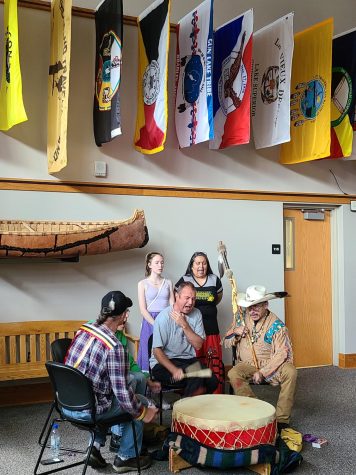 But, Calderon always does what he can to make his appreciation known. As a member of the Tejon Indian Tribe (the Indigenous name is Kitanemuk), a people who are known for their graciousness and hospitality, Calderon was taught by Tribal elders to give meaningful gifts to those who have given to him. While he admits these gifts will never compensate for what he has received, Calderon still believes them important. 
"To me, that is full circle. That is the dynamic that was taught to me," Calderon said. "I don't just take, take, take. It's all about reciprocity. It is so important."
The connections Calderon has made with his professors, especially those in the Center for Native American Studies, are so strong that after asking if the Tejon Indian Tribe's flag could join the others that currently hang in Whitman Hall, he was met with no hesitation. 
When honoring the flag at its new home in late August, Calderon recited a poem in Kitanemuk that was written by a class of 10-year-olds who belonged to the Tejon Indian Tribe. According to Calderon, this — along with Calderon's acquisition of Indigenous knowledge through NMU — is helping to keep his culture, language and people alive.
"The poem was a prayer to the ancestors, asking that the people who hear it open their eyes, their ears and their hearts, so they can breathe the language of the Kitanemuk people now and for always," Calderon said.