M Golf: 'Cats finish season strong, Sprecher ties GLIAC record 137
The men's golf team came up huge in North Canton, Ohio with a win at the Cavalier classic to finish off the season taking first place before the GLIAC championships. The team came together and played well to pull off the first-place finish in the field of ten with Eric Yun leading the way for the 'Cats with a 142 in the 36-hole event.
"I definitely had some three putts in there, but just hitting the fairways and the greens, just trying to make the putts. It really helped, birdieing the par fives is really important at that course," Yun said. "I feel like I did a good job there."
The Wildcats shot a 580 as a team, plus four over the course of the event. Junior Russell Sprecher shot one under par the first round and a total of 144, good for fourth best in program history.
"Coming in with a win to the GLIAC championship was huge for us," Yun said. "Watching my teammates play really well was really good to see."
Warm weather and capitalizing on the long par fives were important in the success the team had and everyone played well with all players scoring under a 76 for both rounds.
"I just think that they came motivated, had themselves mentally prepared to play well and that day, we had absolutely beautiful weather and we responded in an incredible way," Head coach Troy Mattson said.
But their success was more than just luck and motivation. Due to the timing of the golf season and Marquette spring weather, the team practices daily in golfing simulations and then show up early to the competition courses to practice.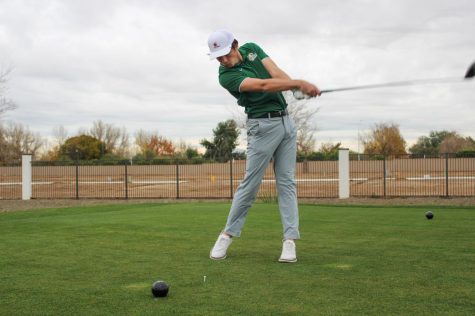 "We put in the work," Sprecher said. "We showed up a couple days early and got to play the course and practice every night, so I think that really paid off."
The weekend prior, the 'Cats traveled to Augusta, MI for the GLIAC championships and Sprecher had a huge weekend tying the GLIAC record with a 137 over the course of 36 holes. Yun had another huge day as well posting a score of 144 respectively.
"It felt awesome to be able to go out there and give us the best chance to make it. I know we came up two strokes short, but it just felt good to finally see the upside of my game instead of seeing the downside so much," Sprecher said.
NMU finished with a seven over, 580 as a team but unfortunately did not make the cut by two strokes, finishing sixth out of the eight team field. Coach Mattson and the team are looking forward for the upcoming year. With many of the core team returning and a new recruit coming in, the team's future looks promising.
"If we finish three strokes, you can always find three strokes out there on the course. We're third, which is a major accomplishment in this program," Mattson said. "We just got a commitment from another young man and, and we have our core people returning and I think the future is very, very bright for the men's golf team."