On Sept. 4 students competed in NMU's annual Residence Hall kickball Tournament on the Lincoln fields. The games began at 9:00 a.m. and continued throughout the late afternoon. Each player fought hard against their opponents regardless of the blistering heat. Hosted by Housing and Residence Life, most teams of the tournament were formed of specific houses or a combination of halls, led by their resident assistants (RA) . While it offered the chance to compete and win the Kickball Trophy, it also served as an opportunity to befriend other players before Labor Day weekend came to a close.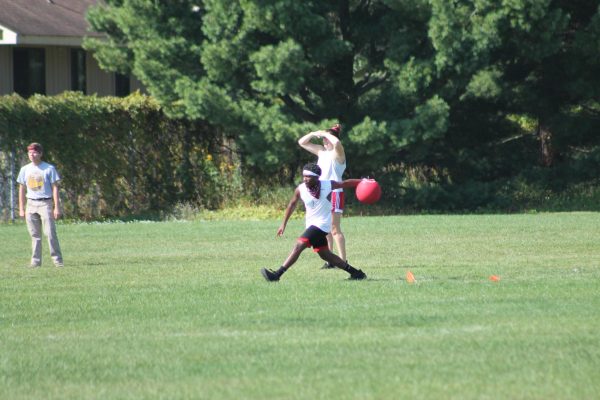 Throughout the tournament, many teams had to face elimination while others moved further down the bracket. The games were ongoing, and the winning team of a game stayed to play in another round shortly after. Unfortunately, those who lost had to walk off the fields without a chance to play again. On Dionysus & Dakota Hall's team, freshman Ruby Montgomery gave it her all and enjoyed her experience, despite her team's loss.
 "Even though we lost the first game I thought it was more exciting," said Montgomery. "It was a team of all guys that were definitely more prepared than we were, but we stayed strong for a pretty long time."
At the start of the tournament's first 9:00 a.m. game, the temperature in Marquette was already on the rise. Each player had to face the 90°F heat during the games, which posed a challenge for everyone involved, including Montgomery. Despite the harsh weather, every team continued to put effort into moving on to the next round. Students were warned to hydrate and prepare for the weather beforehand, but nothing could stop the sun from beating down onto the players.
Story continues below advertisement
"[The heat] was pretty bad, I'm not going to lie," Montgomery said. "We could have decided not to come back, but we powered through." 
As the tournament progressed, every game became more and more intense as teams were eliminated. They showed up with body paint, matching T-shirts and flags. Team captains led their players in loud chants, and players became very competitive as they sought victory. Josh Pletcher, a player on Spooner and Spalding's team, got to celebrate such a victory after a well-earned win that afternoon.
"The games were pretty good, and we won the last one by one point," Fletcher said. "One of our guys got injured and we had to switch him out, but then we ended up getting three home runs in a row." 
Many teams progressed further than they expected, and some found themselves competing in the semi-finals, up to the championship game. Although most teams walked off without a trophy that afternoon, they were closely bonded with their teammates. Reel House, also known as the 1st floor of Birch East Hall, ended up winning the championship game and receiving their well-earned trophy. Students were given the chance to form new friendships and spend quality time while competing and fighting for the win. The kickball tournament will continue to be an annual tradition for years to come.