The final 2023 homecoming event, Dead River Games, took place on Sept. 17. The Dead River Games is a series of competitions, such as the ice cream drop and obstacle course, that take place at Clark Lambros Beach Park annually. This year also included volleyball for fun in between the usual competitions. 
The first important event for some teams was the ice cream drop – where someone from the team stood on the top of a ladder while attempting to drop ice cream into five of their teammates' mouths. Scoops of ice cream fell onto teammates' faces and when missed, it mixed with the sand.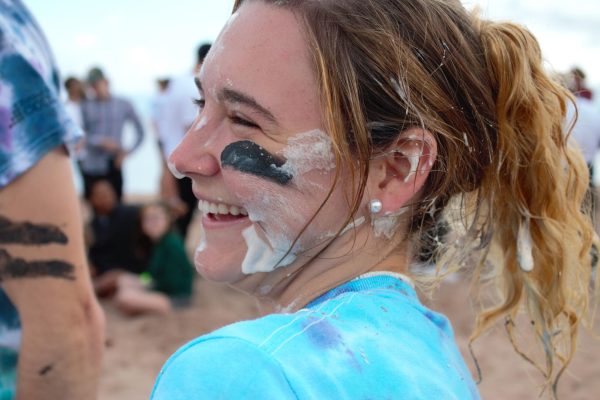 "My favorite part about the Dead River Games is just getting to hang out with my residents and getting to have a really fun time," said Emma Iles, who is a second-year student at Northern. "We really persevered during ice cream drop. It was kind of challenging, but we got through it and had a lot of fun."
The students then moved onto the very long line to participate in the obstacle course. The course included a boardwalk challenge, followed by a ladder toss, a marshmallow spoon challenge and finally the bucket filling challenge. 
Story continues below advertisement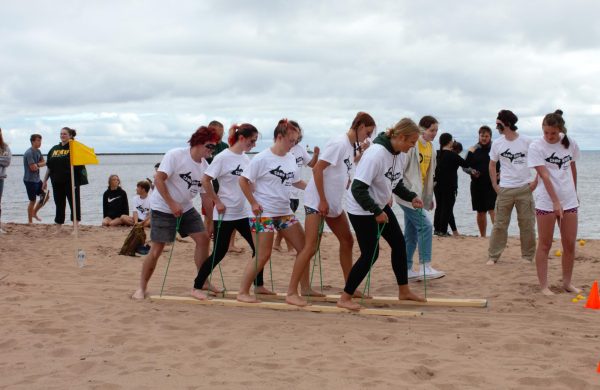 The first challenge encouraged four teammates to stand on two wooden boards with rope and work to move forward as a cohesive group. Once the team completed that, they moved onto the ladder toss game. After the toss, the group would balance a marshmallow on a plastic spoon in order to move onto the final challenge, the bucket filling challenge. Teams would move water from one bucket to another with two sponges. Once the bucket was full, one of the teammates would have to hula-hoop to the last teammate, who slid across a tarp to the finish line. To celebrate their finish, they earned a bag of colored dust that they could open and throw all over their team. 
While teams waited for their turn to go through the obstacle course, they all worked together to dig a giant hole in the sand, play in the lake and dance to music that was playing in the background.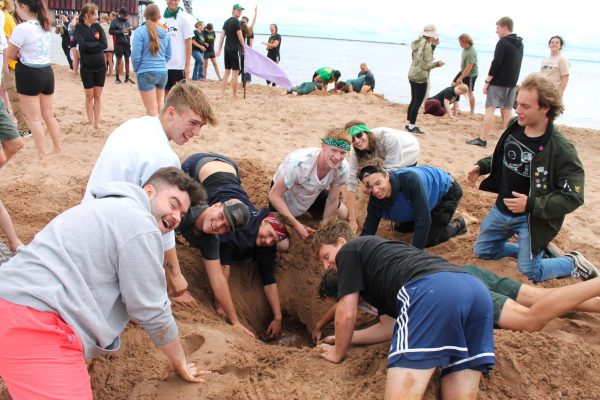 Just as the games were winding down, there was a surprise from President Brock Tessman and his office team who showed up to compete. President Tessman spent some time playing volleyball with students and put on a great show when he slid through the finish line of the obstacle course.