If there is one thing we love about the U.P., it is the outdoors and all of the life that comes with it. On Monday, Nov. 6, students were offered the chance to get a little more up and personal with some reptiles we would not otherwise see.
Freaky Friends with Freya and Northern Scales Reptiles (NSR) – a Marquette pet store – came to Northern to present in Weston Hall. It was Northern Scales Reptiles first off-site event, outside of the usual educational events they throw at the store and was broken into two sessions from 5-7 p.m. as part of two Full Sail events thrown by resident advisors (RAs) in the residence halls.
Zack Kahler of Meyland Hall and Nicole Cash of Hunt Hall were the inspiration behind this event and bringing both Freya Dufner and Alyssa Bjork to present. They helped organize everything and could be seen directing people to hand sanitizer, which participants were asked to use in between animals both for the animals' safety and for their own.
Dufner, who is a fourth-year biology major, knows Kahler and Cash through Housing, as she was also previously an RA, and worked with them quite a bit. Dufner also worked at NSR and had been trying to get educational events up and running, so she communicated with Kahler and Cash to work with them on their Full Sail projects.
Story continues below advertisement
This event was a time for students to ask questions, hear stories and be informed on these reptiles and their safety, as well as learn more about misconceptions surrounding them – not to mention the work in caring for them. They brought around seven reptiles and gave students the chance to pet them under their supervision, minus the Texas brown tarantula.
"Educating people on proper animal care is so important," Dufner said. "A lot of the time people see an animal and buy it because it is cute and do not think of a lot of the care and time that goes into the animal … people love to buy first and think later."
Age is a huge thing people do not always take into consideration when getting a reptile, as they live a lot longer than rodents such as hamsters. One of the animals they use for education is a tortoise, Dufner said. Their tortoise is 22 and could live to be 200 years old.
Dufner also points out that an improper diet can cut an animal's lifespan in half and just make its life miserable.
"One thing I always tell people is that the knowledge we as people have about pet care is constantly changing and is likely not the same that it was when you first got your pet, so it is important that as a pet owner you are keeping yourself educated so your animal lives a long and healthy life," Dufner said.
They started with smaller reptiles, making their way up to larger ones like Leila, a Burmese python with one eye and a Colombian red-tailed boa named Seatbelt, one of Dufner's personal favorites as it goes everywhere with her in the store.
They brought such a variety of animals to show the different kinds you can own, as well as different enclosures and care required.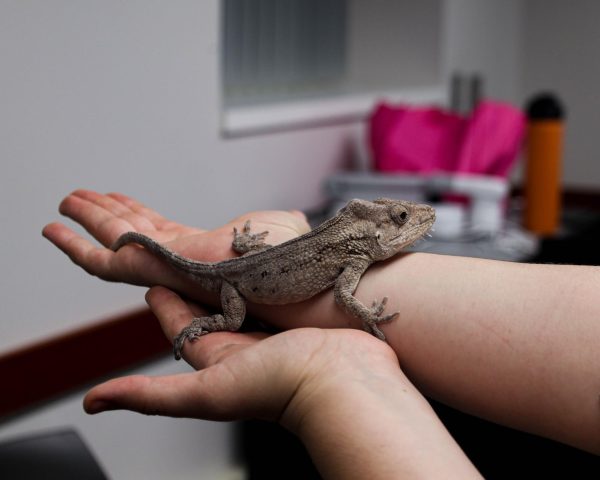 There are three people who work at the store, the owner Chris, Bjork and Dufner. They have just started offering birthday parties and educational events and encourage people to donate – because traveling is not cheap – and to reach out for both information and events.
"My favorite thing in the world is seeing a child's face light up when you introduce them to the world of animals and talk to them about the different creatures they love," Dufner said. "The hardest part is seeing animals that you have raised and cared for from a baby get adopted, it is so great, but can be heartbreaking."
Dufner has been working at a well-known pet store called Preuss Pets for about two years and has cared for and owned reptiles and amphibians her whole life. She stepped in to help with animal care this semester after visiting her friend, Bjork, who works at Northern Scales Reptiles fairly often.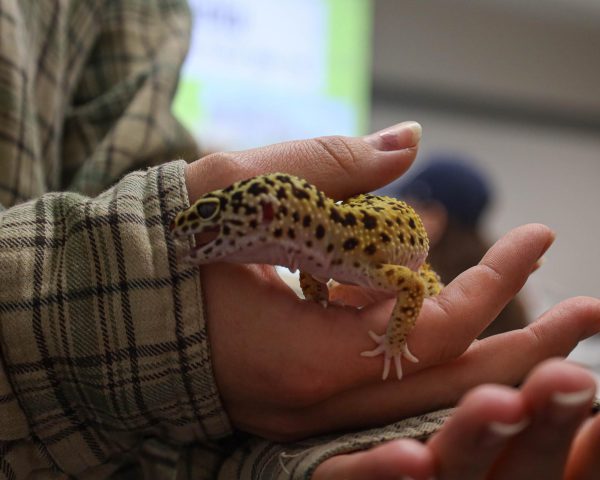 "At NRS we have reptiles, fish, enclosures, decorations, feeder insects, frozen rodents, toys and when we can, we show small businesses. I have a jewelry business and the owner lets me sell my pieces at the store." Dufner said. "But, basically any reptile, amphibian or fish needs, we have all of it. And if we don't have something we can order it in."