Wildcats working out kinks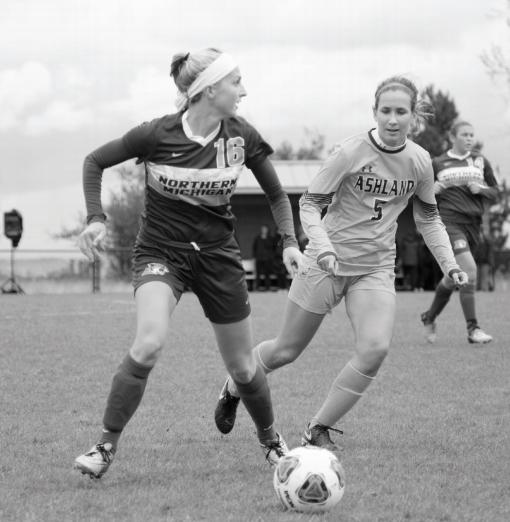 The Northern Michigan University Women's Soccer team is
searching for answers after finishing with a 4-11-2 record last
season and finishing in seventh
place out of ten teams.
The Wildcats are looking to
put goals on the board, something that was hard to come by
a season ago. In 17 games last
year, Northern Michigan only
managed to find the back of the
net 15 times, a 0.88 goals-per-game total that must improve if
the Wildcats are serious about
competing in a tough GLIAC
conference.
Luckily for the Wildcats, sophomore forward Jenna Halonen
returns as the leading scorer for
the team after finishing 2017
with eight goals. Halonen started every game a season ago and
tallied two assists to finish with
10 points, 45 shots and 25 shots-on-goal. The Wildcat offense will
look to Halonen to put points up
but she can't be the only scorer
on the tally sheet again.
Joining Halonen on offense is
senior attack/midfielder Aimee
Colla, who will have a deeper
role now that graduated senior
Allyssa Milam is gone. Colla
finished with two goals last season and no assists. Colla took 17
shots a year ago and put eight of
those on-net. The emphasis for
coach Basma has to be offense
and where that will come from.
Defensively for the Wildcats,
sophomore goalkeeper Brianna
Frontuto returns looking to improve heading into her second
season. Frontuto started 16 of
17 games last season and posted
a respectable 1.62 goals-against-average, letting in 28 scores
while registering 85 saves.
Seniors Sophia Sachs and Raven Mitchell hold down the back
on end on defense for the Wildcats who will try to cut down on
opponent shot production.
Northern Michigan is coached
by Sonia Basma who took over
head coaching duties before the
2017 season.
The Wildcats open their season at home when they'll take on
the St Cloud State Huskies in a
home matchup Aug. 30 at 5:30
p.m.