Remembering Ruth Bader Ginsburg, a legacy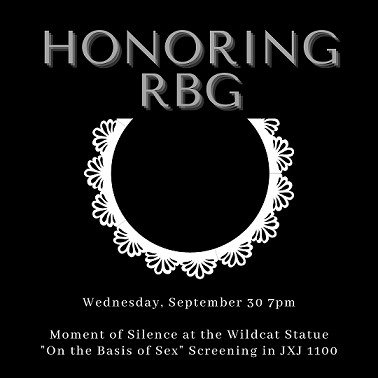 Sept. 18, 2020, saw the end of what many would define as an era. The passing of Ruth Bader Ginsburg referred to as RBG, has shaken America, and in some instances, the world. RBG was remarkable in many ways, whether it be her contributions in paving the way for women or her impact on American democracy. 
Many looked up to RBG, her life stood as an inspiration for women and feminists everywhere. Emma Drever, president of ASNMU, believes that her passing does not diminish her message in any way.
"She's my hero, she's been my hero forever so I haven't really processed that she dies yet. The news became public last Friday and it really was the end of this beautiful legacy. She was the second woman ever to sit on the Supreme Court, the first Jewish woman to ever sit on the Supreme Court and she was on there for a while, I think since '93, so before I've been alive. As a female-identifying leader, her legacy is something I want to emulate," Drever said. "I have socks with her on them. I've had them for years, this isn't a new purchase for me. She's always been a source of inspiration just for her fire and her ability to succeed against sexism because it's something we face on a lot of levels, we being non-male identifying people."
ASNMU will be hosting a moment of silence at the wildcat statue followed by a showing of "On the Basis of Sex" on Wednesday, Sept. 30 at 7 p.m. in Jamrich, Room 1100. There may also be a discussion afterward depending on students' feelings. While ASNMU is hosting the event, Drever expressed how it is more than a normal event.
"Personally for me, her death was very impactful and I was thinking about planning something but I wasn't really sure," Dever said. "I checked my email and five people emailed me asking me to plan something, which was a mix of students, professors and administrators so I knew it was something I needed to do."
Other events have been held throughout the weeks proceeding her passing. Many courthouses have been seen with vigils, and Social Justice For Us held a candlelight vigil on Sept. 22. The Supreme Court currently has her body and casket on display. Visitors can view her from afar as she rests above them atop a staircase, according to Drever.
Students looking to learn more about RBG should read "In My Own Words," a book written by RBG and other lawyers, or watch the documentary titled "RBG," recommended by Drever.
"It's important to know, to feel and to act that her fight, her life's work, her legacy, didn't end when she died. It was a moment of fear for a lot of people, but this isn't it and we can't honor her that way by acting in defeat," Drever said. "We need to be inspired by her spirit and be a voice for each other and be a voice for the oppressed and give legal rights to the people that live in our country and keep the fight going."
RBG was able to reform the U.S. government in ways that would allow women opportunities they had never previously had. Hanna Mahn, senior, political science major, shares how RBG influenced her career path.
"When I decided that I wanted to major in Political Science, I was not exactly sure what I wanted to do with it; at the time, I just loved learning and talking about politics. It was not until I learned about Ruth Bader Ginsburg that I actually had that 'aha!' moment. RBG's legacy of change in the legal system is the inspiration for what I hope to do one day. She saw a problem and went about setting a brand new legal precedent," Mahn said in an email.
Mahn wishes for her peers to remember RBG not as someone who was perfect, but as a fighter for feminism and justice. She also recommends others to read her famous dissenting points in Supreme Court opinions which earned her the nickname "the Notorious RBG."
"RBG was one of the most important players in the fight against gender discrimination. In her first case, 'Moritz v. Commissioner,' she effectively argued that discrimination on the basis of sex goes against the Equal Protection Clause of the Constitution. From here, RBG was a champion in cases where gender discrimination was evident," Mahn said.
The passing of RBG, while sad, is not the end of her beliefs. Drever and Mahn both believe that there is still much to learn, remember and honor in the life of RBG.
"I think the best way to honor RBG and her legacy is to continue with her fight. To use our voice to vote and rail against any and all injustices we see," Mahn said. "Personally, I will honor her by continuing my education so one day I practice law and fight for others the way she did."