School of Art and Design hires student models to help artists gain experience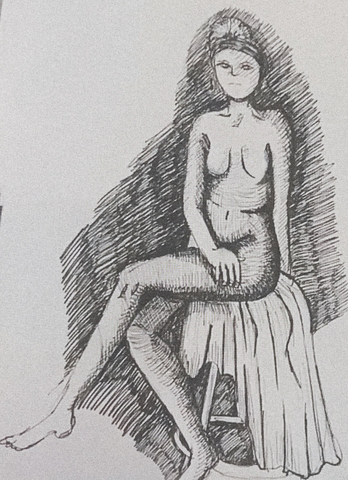 Rebecca Short, a senior majoring in biology with a concentration in zoology, spent her first time modeling for the School of Art and Design completely undressed and holding the same pose for two two-and-a-half-hour sessions while students tried to capture her likeness for their final exam. Even though it was one of her more grueling modeling sessions, Short found herself wanting to come back.
"It was pretty nerve-wracking but everybody was so nice … and they were so welcoming and really kind and really encouraging," Short said. "I think they can understand how vulnerable it is to be up there in front of a bunch of strangers. They were all really nice and it ended up being super fun and I kind of fell in love with it."
The School of Art and Design hires models like Short as a reference for a further understanding of how the human body works. Associate Professor of Illustration Steven Hughes teaches illustration classes at all experience levels that utilize models.
"I use [models] to teach anatomy with regard to understanding the human figure for an artist … What are the surface details? What is important to communicate with the figure in storytelling?" Hughes said. "The human figure is such a complicated machine that we look for ways to simplify it. We look for ways to take geometrical forms and mechanics, like how hinges work if you will, and compare that to the human body. So it is a little like teaching them how to understand how to simplify so when they have something more complicated, they can manage the difficulty of it and be a little more creative with their choices down the road."
The complications of the human body are what make drawing a model with clothes on even more difficult. The School of Art and Design hires both clad and unclad models to provide both experiences for students.
"If we don't understand how [the body] works underneath, it is hard to draw on top," Hughes said. "Being able to see unclad allows us to understand the muscles … and really when we are drawing at the 100 level, it is a little bit easier to draw from an unclad model. The clothing and the wrinkles just offer up so much variance and interruptions of basic forms."
Drawing from an unclad model is not always as easy to think about as it may be to draw. For students having to draw a naked stranger in front of them, their first experience can be a little overwhelming, but it gets easier, according to Beth Krause, a senior majoring in art and design with a concentration in illustration.
"I had never had experience with [unclad models] before I was in art school, so it was definitely a bit weird the first time a stranger stood in front of me without any clothes on," Krause said. "However, I think my professors did a really amazing job of preparing us for what to expect and for how to behave so that the model never was made to feel uncomfortable. Once you get over the awkwardness and immature knee-jerk reaction of 'OMG a naked person!' it becomes as comfortable as drawing anything else."
Becoming comfortable with drawing from both clad and unclad models is an important part of being in the art and design program, and having experience drawing different models is the best way to get better at it.
"The models are doing us artists a great service, and I think it's especially important to recognize the level of vulnerability they have to embrace when they are unclad in front of a group of students," Krause said. "I really appreciate the models for allowing us to have the experience of drawing the human form from life. For me, I don't really mind if they are clad [or] unclad. I think both present challenges to artists. It depends on what skills you are trying to strengthen."
Andrea Wrubel, the Executive Secretary for the School of Art and Design, hires all of the people that work as models.
Unclad models earn $18 an hour and clad models are paid $12 an hour.
"It is not going to be like a weekly job; it is not a permanent position," Wrubel said. "If a professor asks for a model for a class and it fits your schedule, you may be contacted. The position could last anywhere from one day to all semester long. It just depends on their availability."
Currently, Wrubel says she is looking to fill modeling positions on Mondays and Wednesdays from 2-4:30 p.m. as well as Tuesday and Thursdays from 10 a.m. to 12:30 p.m. this semester. Students can stop in her office in 159 Art And Design or email Wrubel at [email protected] if they are interested in modeling.
Models are currently in demand this semester and Wrubel said there is no limit to how many models she will hire.
"We do encourage people to tell their friends. If any people are interested, get in touch with our secretary because we do want a range [of models]. Anyone is certainly welcome … there is no requirement in terms of body type at all," Hughes said. "The only requirement is that you can sit for a pose that can last up to 30 minutes … that is really the most difficult part is being able to hold still."
On the modeling application, students can select whether they feel most comfortable modeling clad, unclad or both. However, modeling is not for everyone and whether they are dressed or not, the models need to be able to hold a pose without fidgeting or moving around.
"I am comfortable in my skin and I understand that it is for art. It is for a class and it is a very professional thing," Short said. "It is definitely something that a lot of people are like, 'Wow, I don't know how you can do that,' but usually that is more in reference to sitting still as opposed to being undressed."
One of the ways Short passes the time while holding a pose is focusing on her surroundings and sometimes even meditating.
"A lot of times, professors will play music during class so a lot of the time I'm just thinking about the songs that are playing," Short said. "For longer poses that are around 10 or 15 minutes, I can usually gauge how many minutes I have left with whatever songs are playing."
Even with COVID-19, these aspects of the illustration classes haven't changed. Professors still request models for their in-person with classes, even though the class sizes tend to be much smaller and play music during their work time. The only big difference is that everyone, including a clad or unclad model, is wearing a mask.
"I wear my mask when I am up there and that is definitely kind of funny or ironic in a sense with that being the only thing worn," Short said.
Short tends to model unclad but she says her one clad experience was interesting as well.
"They were only working on a silhouette but they are all still seeing all these different shadows and using all the props was really really fun," Short said. "We did one where he gave me an apple and I had a scarf so we did the witch in Snow White when she is handing her the apple."
All of these modeling experiences have had a positive impact on Short who encourages others to try modeling as well.
"It is so cool and you get to meet these people. I mean, they talk while they are in class and so you get these little insights into their lives," Short said. "It is a lot of fun and it is rewarding and I mean, how many people get to say that was one of their jobs in college?"