Opinion—I toured local bakeries for a sugar coma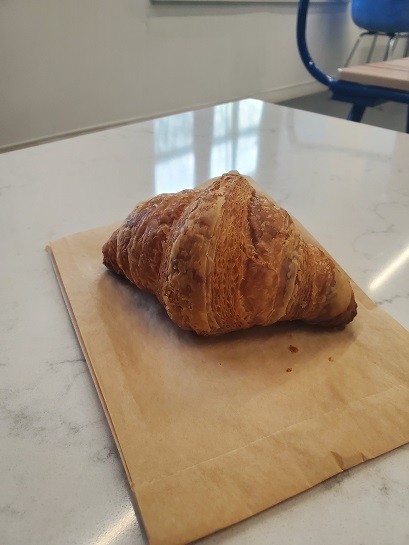 Among the many hidden treasures in the city of Marquette include businesses for those with a sweet tooth. There are half a dozen bakeries available to NMU students to provide plenty of opportunities to satisfy any craving. Each business has both a unique variety of products, as well as individual atmospheres that shape each bakeries' identity.
With an empty stomach and a blatant disregard for my dietary needs, I embarked on a sugar-crazed tour of six Marquette bakeries. When ordering I asked every person behind the counter a simple question; "What is your best product?" This allowed me to remain objective, gave each business a chance to offer which product they are particularly proud of and a best seller with, and also provided me with plenty of variety in the products that I ate. After ordering whatever product I was told is the best, I tried the food, took notes, and later gave the experience a rating from one to five stars. It is my hope that these reviews will help encourage you to go and sample these bakeries yourself, especially in a time in which many of these establishments have seen a decrease in the number of customers.
Babycakes Muffin Company – With a comfortable atmosphere and a wide variety of selection, Babycakes is an ideal stop for a day spent shopping in downtown Marquette. The customer service was friendly and I sampled a vegan, chocolate muffin. The muffin was rich in a creamy chocolate flavor, and I would have never guessed that it was vegan. The price of $3 was fair for the size of the muffin. Overall, I would rate my experience as 4/5 stars.
Borealis Baking Company – During my coma-sugar tour, I decided to stop at the Marquette Farmer's Market to see what baked goods were available. What I found were two ladies behind a small table with a limited selection of goods. As always, I asked what the best product was, and to my delight one of the ladies pointed to a delicious looking donut. I paid and sampled what was an apple cider donut. On that windy Saturday morning, that donut represented fall. The price of $2 was slightly expensive for a single donut, but was still reasonable. If you find yourself at the farmer's market sometime soon, Borealis Baking Company's stand offers a great treat to give you the sugar rush needed to complete your shopping. Overall, I would rate my experience as 3.7/5 stars.
Cookie Jar Greek Sweets and More – This Third Street hidden gem gives Marquette a unique look at authentic Greek baking. While the variety isn't as large as other bakeries, the products are sure to satisfy people with a specific taste. After striking up a conversation with the owner behind the counter, I was convinced to try perhaps the most recognized Greek baked good in the world; baklava. With a flaky exterior and a sweet honey taste, I was not disappointed. However, it was so rich, I couldn't finish it in one sitting. The bakery itself was fairly small, and only offered a few chairs for anyone wishing to dine-in. Overall, I would rate my experience as 3.5/5 stars.
Huron Mountain Bakery – For any students driving to or out of Marquette, Huron Mountain Bakery is the perfect grab and go destination for you to stock-up on some sweets. The variety alone was overwhelming. The service was very friendly and the bakery was comfortably busy. After careful consideration, the lady behind the counter directed me towards the apple fritter as one of their best products. I eagerly ordered one and was shocked that it only cost just over a dollar. While Huron Mountain Bakery may not be the best option for those wishing to sit down and enjoy their baked goods, due to the heavy traffic and limited seating, it does have an outstanding selection, quality food, and exceptional value. Overall, I would rate my experience as 4.8/5 stars.
Marquette Baking Company – For some, going to a bakery means more than just sugary delights. If you are in the search for high quality bread or rolls, Marquette Baking Company is the bakery you have been dreaming of. When you first enter, you are struck with the mouth-watering smell of homemade bread. After looking over the impressive selection, I asked which product was the best and tried a slice of chocolate pumpkin bread. The taste once again reminded me of fall, and I can only imagine the bread would have paired perfectly with a cup of coffee. The price of just over a dollar for a single slice was fair, and the service was very welcoming. Overall, I would rate my experience as 4/5 stars.
231 West Patisserie – The phrase "save the best for last" has never been truer. Upon entering 231 West, it is hard to not be impressed with the modern décor. You feel as though you are entering an upscale café in a large city. While the variety may have been fairly small, the display was impressive enough to make a selection difficult. Thankfully, the server behind the counter made the decision for me. She said that their croissants were very popular, warmed up a chocolate one, and served it to me. The outside was golden brown, and the flakes fell off onto my plate while I picked it up. The inside contained slightly melted dark chocolate that is quite honestly the best I have tasted. The cost of just over $3 was slightly expensive, but was more than worth it for the taste. 231 West offers students the perfect place to study or write while you enjoy a great tasting treat. Overall, I would rate my experience as 5/5 stars.
Bakery Locations and Business Hours
Babycakes Muffin Company
Located at 223 W. Washington St.
Open 7 a.m. – 7 p.m. and Sundays 8 a.m. – 4 p.m.
Borealis Baking Company
Available at the Marquette Farmer's Market
Located at 112 S. Third St.
Open Saturdays from 9 a.m. – 1 a.m.
Cookie Jar Greek Sweets and More
Located at 1015 N. Third St.
Open Tuesday through Friday 10 a.m. – 5 p.m.
Huron Mountain Bakery
Located at 1301 S. Front St.
Open 5 a.m. – 11 p.m. and Sundays 6 a.m. – 11 p.m.
Marquette Baking Company
Located at 117 W. Baraga Ave.
Open Tuesday through Saturday 8 a.m. – 5 p.m.
231 West Patisserie
Located at 231 W. Washington St.
Open every day 8 a.m. – 9 p.m.
Editor's Note: The North Wind is committed to offering a free and open public forum of ideas, publishing a wide range of viewpoints to accurately represent the NMU student body. This piece is a guest column, written by a Northern Michigan University student, faculty member, or community member. It expresses the personal opinions of the individual writer, and does not necessarily reflect the views of the North Wind. The North Wind reserves the right to avoid publishing columns that do not meet the North Wind's publication standards. To submit a guest column contact the opinion editor at [email protected] with the subject North Wind Guest Column.