Coping with college exam week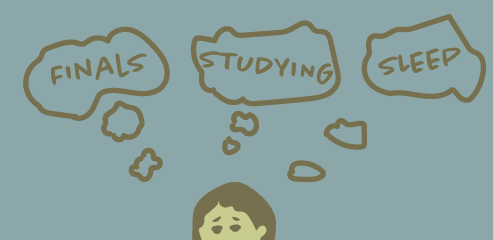 Each November, as the colors of autumn begin to fade, and fresh snowfalls blanket the Northern Michigan University campus, students and staff begin to bundle themselves up in preparation for the long winter ahead. Winter jackets are taken out from the backs of closets. Cups of coffee are clutched between mitten-covered hands. Dorm room heaters are turned on for the first time. It's a time that seems to create a peacefully cinematic scene at the university. However, from the perspectives of the students, it is simply a façade for the chaos of an impending exam week.
Although there may not be any snow illustrating this change this year, the anxiousness that encompasses exam week is still present, nevertheless. From the library tables occupied by students with their books, to the Starbucks lines stretched with individuals in search of caffeine, the entirety of campus has begun to prepare for the final two weeks of the semester.
During this time, many students may find themselves feeling overwhelmed by their coursework and their studies—pulling all-nighters to work on final projects or study for final exams. These habits are expected within a college setting, as students attempt to recall four months of diverse course information in a short period of time.
For a select few individuals, this may be an efficient way to study, but for the majority of people, this only leads to creating an additional and unnecessary stressor. Although the creation of these stressors is completely unintentional, journalist Tom Stafford, highlights why this occurs within a digital article published by BBC.
"Studies of memory suggest that we have a worrying tendency to rely on our familiarity with study items to guide our judgements of whether we know them," mentions Stafford. "The problem is that familiarity is bad at predicting whether we can recall something."
During a year lacking many senses of this familiarity, exam week seems to have come sooner than expected for most students. However, it is imperative to realize that there are still numerous ways to manage all of the stress and unpredictability that has been exemplified by the COVID-19 pandemic this semester.
Junior international affairs major, Claire Hohma offered a student perspective on the stress of exam week and how she has managed it over her past two years while pursuing her major and going to classes.
"Normally professors provide study guides, so I'll study the material and take notes. I find it's best to study a week in advance instead of cramming days before the final if you can. It does become pretty stressful no matter how much you prepare, but it's important to take breaks from time to time," Hohman suggested.
Instead of anxiously relying on remembering course material, this study method offers a way to review and still have time to relax. In fact, there are many ways to do this within the city of Marquette itself.
"I'll hang out with my friends, and we'll grab coffee and walk at Presque Isle," elaborated Hohman. "Other times, I'll clean; it's kind of therapeutic for me. It's important to clear your mind from your studies, especially during the weeks leading up to finals."
As explained by Hohman, finding a way to destress—whether it is as simple as listening to a favorite song or even going for a walk downtown—is extremely important to stay calm and keep a healthy mind during exam week. However, if the stressors ever begin to feel too overwhelming, there are many resources to reach out to with people who are more than willing to help no matter what the situation may be.
On campus, counseling and consultation services are located in 3405 Hedgcock on the second floor and are completely free to all enrolled students. The office is located opposite from Melted and is open Monday through Friday from 8 a.m. to 5 p.m. To schedule an appointment call (906) 227-2980.
To talk with a campus counselor at any time of the day, students are also encouraged to text HELP to (906) 356-3337.
Additionally, for those who would prefer to talk to someone off of campus, there are numerous mental health providers in Marquette available as well.
During the last couple weeks of the semester—as seasons begin to shift in all senses—finding a place of peace will be imperative to keep a calm mind, and in a community as supportive as NMU and Marquette, there are many opportunities to do so.All of the information regarding both campus and community Counseling and Consultation can be found on https://nmu.edu/counselingandconsultation/.