UPABA to hold caregiver webinars on behavior analysis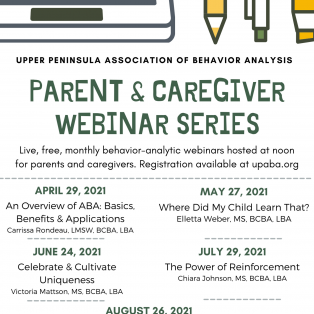 Relatives and caregivers of individuals who might benefit from Applied Behavior Analysis will be provided an informational webinar series hosted by the Upper Peninsula Association of Behavioral Analysis. UPABA is partnered with Northern Michigan University and the Superior Health Foundation.
The live series will be held virtually on Zoom and is free and open to the public. Webinars will take place on the first Thursday of each month, beginning on Thursday, April 29 from noon to 12:45 p.m. The events will continue on May 27, June 24, July 29 and Aug. 26.
The first webinar, taking place during exam week, is titled "An Overview of ABA: Basics, Benefits and Applications" and will be led by Carissa Rondeau, LMSW, BCBA, LBA.
"Applied Behavior Analysis is an approach to behavioral psychology that seeks to increase, decrease, modify or maintain socially significant behaviors through the assessment of behavior function and the alteration of environmental factors," according to the UPABA website. "Therapeutic approaches based on ABA are widely endorsed as the most evidenced-based best practice for addressing the core symptoms of autism spectrum disorder."
ABA is also used to help with behaviors resulting from developmental disabilities, brain damage and behavioral disorders.
Those interested can register for the April 29 webinar via the UPABA website.