Fall Fest brings back normality to campus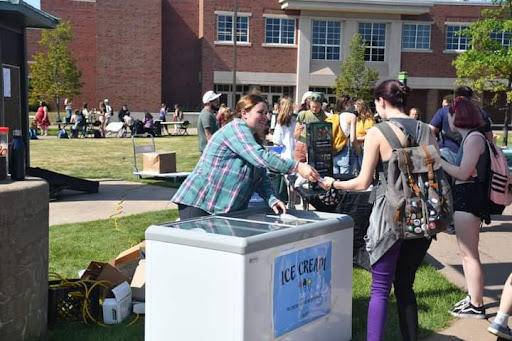 The Center for Student Enrichment hosted their annual opportunity fair, Fall Fest, on Aug. 23 and Aug. 24. Student Organization Day was held on Monday with Non-Profit/Local Business Day on Tuesday. Both boasted free food and drinks with music playing and a poster sale.
Fall Fest is a chance for students to learn more about student organizations, volunteer agencies and local businesses. For clubs and organizations, the festival provides an opportunity to promote their name to those who attend the event. 
"Fall Fest is a tradition that goes back 30+ years. It's traditionally held outside, but we decided because of the pandemic to spread it over two days out here [Jamrich and West Science]," Rachel Harris, director of the Center for Student Enrichment said. "One day for our student organizations and one for the local businesses and non-profits."
Turnout at Fall Fest was significant on both days, which was excellent news for both student groups and the local community who have been lacking in participation and membership since the pandemic. 
"Membership in groups was really low this last year because of the pandemic so it's great because this year the energy is different," Chris Canchola, a graduate assistant at the Center said. "People want to be here. They're excited to talk to us and other groups." 
The first day of Fall Fest hosted some of NMU's 353 groups. 242 of which are student organizations. Groups that were at Fall Fest included ASNMU, several religious groups, Mental Health Matters, the Anthropology Club, Conservation Crew and more. Students who were not able to attend the festival can find student groups on The Hub.
"It's a great way for people who are away from home to find a community outside of academia," Tori Wyeth, senior and biology major, said. "It's important to have regular opportunities and awareness of those opportunities [for students]."
Due to the pandemic, group membership was exceedingly low due to social distancing restrictions. Fall Fest has allowed groups who were experiencing low membership to get their name out there and recruit new members. For example, the President of the Fisheries and Wildlife Association, Ally Kozina stated that they received over three pages of student emails. 
"Since the Marquette area is small, it helps with finding ways to be active in the surrounding community as well," Kozina said, "I also enjoy seeing community members come to Fall Fest because it lets them know what's going on here on campus and how we're contributing to their community."
Fall Fest's second day hosted many local businesses and organizations that allowed students to shop around for a potential job and volunteer opportunities. Domino's, Friends of the Elderly, Big Brothers Big Sisters, Flagstar Bank, NMU's Beaumier Heritage Center, and many more made an appearance. 
Marquette's local library, Peter White Public Library, made its appearance at Fall Fest after taking last year off. The library has been attending Fall Fest for five years now. This Fall Fest they offered job listings and several outlets to access their resources remotely. According to their Director, Andrea Ingmire, the pandemic has had a significant impact on that choice. 
"It [the pandemic] forced us to look at what we were doing. We had to evaluate what our most important services to our community were and how to make that readily available," Ingmire said, "We're actually getting ready to use Hoopla which will grant online access to movies, music, comic books, and a lot more."
With the steady decline of public libraries due to the pandemic and the rise of the internet, Ingmire wants the campus community to know they are here and accessible. In addition to this for cardholders, Ingmire wanted to make it clear even if a student does not hold a card with the library they are still free to use their common spaces. 
Despite the pandemic, NMU is working diligently towards bringing our community back together. Fall Fest was a step towards regaining a sense of normalcy on campus and in the local community.