Visiting Writers hosts journalist Tracy Ross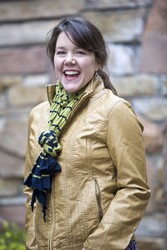 The Visiting Writers program is bringing author and adventure journalist Tracy Ross to students virtually this semester. Ross will discuss her award-winning career and provide pointers from her experience freelancing and publishing in Backpacker Magazine. The event takes place on Thursday, September 9 from 7 to 8 p.m. via Zoom.
Organized by the Graduate Writers Association in the English department, the visiting writers program brings several established writers to campus each semester in order to aid students in finding their writing passions, understanding individual works by the authors and navigating the industry.
This time, Ross will be speaking about her work in journalism, freelancing and publishing. She is an editor at Backpacker Magazine, where she has earned awards for her journalism. She is also the author of The Source of All Things: A Memoir, for which she has also received recognition.
According to the event's organizers, "Ross's assignments have taken her to the wilds of Alaska, the ski slopes of Iran and the most remote reaches of Ecuador. She writes about exotic places and intriguing people, but mainly about the wilderness and how it intersects with the most important issues in our lives."
This event will include a reading by Ross, followed by a question and answer session. Entrance to the virtual event is free and open to the public. The link can be found here, and the password for entry is "writers."