NMU Mycology Club continues to enjoy fall season with foraging
The foraging season has yet to come to an end here in the local Marquette and NMU community. NMU's own mycology club has continued to utilize the fall season to study and enjoy the outdoors.
Marquette's local area, and even on campus, hosts many opportunities to get involved in foraging, or the study of natural organisms. Currently in season are "chicken of the woods", staghorn sumac berries, wild onion, curly dock and more. 
NMU's club, Northern Mycology, has spent their weekly meetups to discuss local fungi and enjoy company out in the wilderness. 
"Every time we go out as a club, we find new things, we reinforce knowledge we may have already had, and most importantly we disconnect from the outside world and just get lost in the woods," Dylan Taylor, president of NMC said. "We may not consume what we find, but the knowledge is still being instilled."
Going out and discussing local fungi is a great way to clear the mind and reset, especially with the pandemic that has kept many indoors, said Taylor. 
"But, foraging and enjoying nature is a great privilege, which is something we mustn't forget," Taylor said.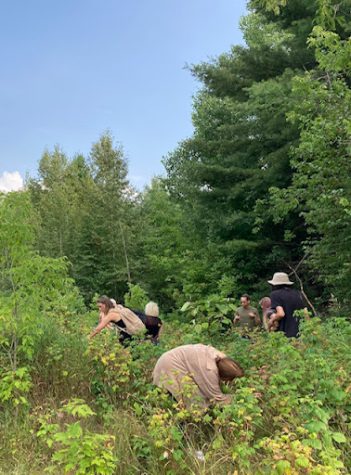 For students interested in only the study of mushrooms and finding a like-minded community, NMC is the only mycology club on-campus. Taylor's group focuses on identifying mushrooms in the area, taking photos and learning about the surrounding area. 
"Understanding your physical surroundings is very important. Foraging is a great way to be more in touch with nature. If you are not comfortable eating wild plants and fungi, just take pictures," Taylor said. "Photos are a satisfying trophy as well. 90% of the time I go out looking for mushrooms I only return with photos and that's just fine."
Recommended places to begin looking for fungi and other forageables are places such as Marquette's Fit-Strip which hosts thimbleberries in early summer and The Board of Light and Power trail which has multitudes of fungi in nearly all seasons. 
"We live in what I refer to as a fertile crescent of fungi. We see new species every day that we have never seen before and it is just really cool to spend time doing that. You can do it anywhere here," Madeleine Mead, local forager, said. "People have mushrooms in their front yard. There is a lot of really cool stuff that if you just look at the ground for a second, you will see pieces of nature that you did not notice before."
To get started students should begin independent research and education. The Department of Natural Resources has a webpage dedicated to what forageables are accessible to Michigan residents. Morels, various berries, and even tapping maple trees are popular forageables. The viral forager Alexis Nikole's content, iNaturalist, field guides accessible at Olson Library and online foraging groups are great places to get started.
"I just feel more wholly connected to the place that we live in [when I forage]. Meeting other people and learning about where they find stuff," Mead said. "It is a really cool way to connect with other people. But also, if you just want to spend some time alone to really get to know yourself."
NMC does not condone the consumption of any fungi found. NMC focuses on fungi identification and their roles in the environment. 
"Fungus can be a good source of food, but there are so many toxic fungi that it's not a good idea to promote the eating of them in a school-related club," NMC said.