Indigenous Peoples' Day celebrated on campus
For the first time in presidential history, President Joe Biden recognized the day formally in a written proclamation last Friday.
"For generations, Federal policies systematically sought to assimilate and displace Native people and eradicate Native cultures," Biden wrote. "Today, we recognize Indigenous peoples' resilience and strength as well as the immeasurable positive impact that they have made on every aspect of American society."
Biden also recommitted to supporting a new and brighter future of promise and equity for Tribal Nations. 
"A future grounded in Tribal sovereignty and respect for the human rights of Indigenous people in the Americas and around the world," Biden wrote.
Northern Michigan University saw its first as well on Indigenous Peoples' Day.
After five years of fighting for official recognition of Indigenous Peoples' Day from NMU, the Native American Student Association finally made that happen.
"Indigenous Peoples' Day is a meaningful holiday that recognizes the past and current state of colonization for Indigenous Peoples," NASA wrote on the Indigenous Peoples' Day event page. "It celebrates our fortitude and resiliency to continue our Indigenous ways of life."
The fight began in March of 2016 when Associated Students of Northern Michigan University wrote a resolution for NMU to formally recognize the day as a holiday. In 2020, then ASNMU president, Emma Drever, along with NASA members, Bazile Panek and Yrsa Peterson, presented their proposal to the Board of Trustees.
On July 30, 2020, BOT agreed to pass the proposal.
Indigenous Peoples' Day celebrations kicked off at 10 a.m. with an opening song by the Native drumming group, Morning Thunder.
Following the song, NASA president, Bazile Panek, gave opening remarks before introducing Native American Studies professor, Grace Challier.
Challier read an essay by one of her students about the impacts of boarding schools on Indigenous communities. Challier also highlighted the resiliency of Native peoples and the healing that continues to be done, tying into the theme of this year's celebration, healing and celebration.
ASNMU president, Bethany Beavers, spoke next on the history and struggle of getting Indigenous Peoples' Day recognized by NMU.
Kerri Schuiling, NMU interim president, was scheduled to speak but due to her plane being delayed, professor Martin Reinhardt spoke on her behalf. Reinhardt shared his own words on the importance of the Native language in healing and traditions.
Afterward, the new land acknowledgment sign was unveiled by Dan Truckey, director for the Beaumier Heritage Center and head of the land acknowledgment committee.
The sign was designed by Reese Carter, a junior at NMU double majoring in illustration and Native American studies.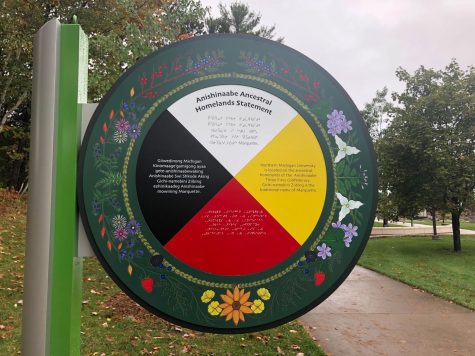 The morning ceremony ended with a drum song and a healing march to the fire site near Whitman Hall.
Despite the ceremony concluding for the morning, celebrations continued on throughout the day and into the night with the evening ceremony.
Packed in Whitman Commons, many gathered to celebrate Indigenous Peoples' Day and show their support for the hard-earned day. Students, community, faculty and staff all sat in the same room to listen to the Indigenous people who shared their voice on the day.
The evening ceremony began at 6 p.m. with a presentation on healing and Indigenous food sovereignty from Dr. Rebecca Webster.
Webster addressed the importance of seeds in Indigenous culture and focused on three talking points during the presentation. Seeds in culture and history, historical trauma and then healing and celebration.
Growing up for Webster consisted of many barriers that prevented her from celebrating her culture.
"I was bused out to a public school off the reservation where the Oneida kids were definitely in the minority," Webster said. "I was forbidden to practice our ceremonies because my family was Catholic. So there was just a lot of different various barriers to this knowledge."
However, as a mother, Webster said that the most rewarding thing is knowing her daughters are growing up knowing this is every day for them. Webster's goal was to normalize their culture and identity and normalize the celebration of their foods.
"[My daughters] might not totally understand the history, and what we had to do to be able to get to this point, but I am okay with that," Webster said. "For them, this is just going to be a part of their life and a part of who they are and they did not need to reclaim it, because it is theirs, and I gave it to them."
Following Webster's presentation, the evening ceremony held a panelist discussion featuring three speakers. Sophie Montano was the student panelist, Amber Morseau was the faculty panelist and Danny Garceau was the community panelist.
Each panelist brought their different experiences to the discussion, however, despite their differences, all three hoped for the same future to come.
"I think in some ways, you know, whenever you do have a storm that comes in, there is always something that comes positive out of it," Garceau said. "Whether it is the rain, or whether it is bringing people together."
Following the discussion, the floor was opened for attendees to ask questions and share their thoughts.
"I think NMU needs to definitely listen to the Indigenous voices, specifically in Marquette, and just the Anishinaabe people in the area and just center them and what they feel that their communities need," Joslin Brown, sophomore Environmental Studies major, said. "Especially here, which is obviously more than just a day of recognization. [NMU] needs to be supporting the community directly."
Concluding the day of celebrations, NASA held an open mic with live music, opening the room up for a social hour for those who decided to stay.
The aim to spread healing and celebration for Indigenous Peoples' Day was well met on campus. While NMU is moving in the right steps forward, the overall census was for NMU community members to continue supporting their Indigenous friends by listening to them.
"I truly believe it is a wonderful day to learn from each other," Yrsala Peterson, NASA vice president, said.