School of Nursing hosts annual blood drive with U.P. Regional Blood Center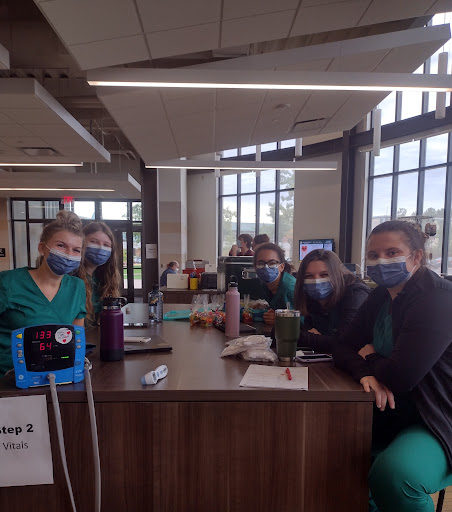 NMU's School of Nursing hosted its annual blood drive through the U.P. Regional Blood Center. The blood donated from students, staff, faculty and the local community will be used in 13 local hospitals.
The blood drive took place in Jamrich room 1100 from 10 a.m. to 2 p.m. on Thursday, Oct. 14.
According to Red Cross, every two seconds someone in the US needs blood and one donation can save up to three lives.
"I'm O+ positive, so I know that there is a great demand for that type and I like to give," Mo Gill, freshman clinical laboratory science major said. "Also, I know it sounds silly, but if you are nervous about donating, do not be. If you give [blood], you just feel a little bit better about yourself and I just know it can make someone's day."
However, due to the pandemic, there has been a 10% decrease in donor turnout since this August which resulted in a massive blood shortage across the country. Blood supply has not reached a low like this since 2015. This is likely in part due to the increase of the delta variant. 
Those who are eligible to donate are strongly encouraged to reach out to their local blood center or Red Cross to set up an appointment. All blood types are needed. 
"It is so important to donate blood," said Jennifer Campbell, senior and nursing major, "You never know when you are going to be in a position where you are going to need blood. There is a shortage of blood all the time, especially here in the UP."
Morgan Hallenback, student organizer for the blood drive and senior, said donating blood provides a safety blanket for not only the local community but for the individual donating as when hospitals have enough blood, they're able to provide more services for their patients. 
"I really wanted to be part of the community so I thought that this [the blood drive] was a really good chance to do that. It is a really good cause," said Hallenbeck. "You never know when somebody is going to need it. You or your loved one might be in a position where they need it.
The donation process this year included a set up in the lobby outside of 1100 that had nursing students to guide people through vitals and paperwork. After that, staff from the blood center collected the donation. 
There were snacks and drinks accessible after for those that needed them. The blood drive was not only open to the campus community but to Marquette as well. 
Campbell said turnout for this semester's blood drive was expected, as earlier this semester the Red Cross hosted a blood drive in the library. Many people are still in the 8-week resting period before they are able to donate again.
Several businesses from the local community such as Yoop-Phoria, Donckers, 231 West Patisserie and more sponsored a giveaway for those who donated. 
For those who missed this blood drive, the School of Nursing hosts blood drives with the center every semester so there will be another opportunity to donate next year. To stay updated on the next blood drive, access the Hub. To donate sooner, see the blood center's Facebook page for blood drive events.