Global experiences during a global pandemic
NMU student reflects on study abroad experience during pandemic.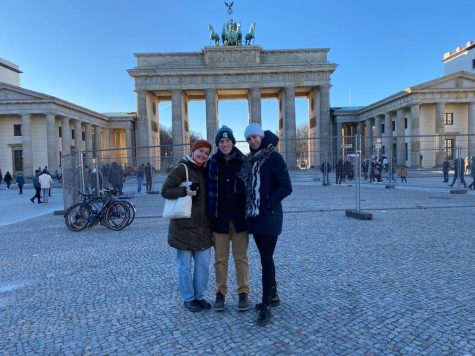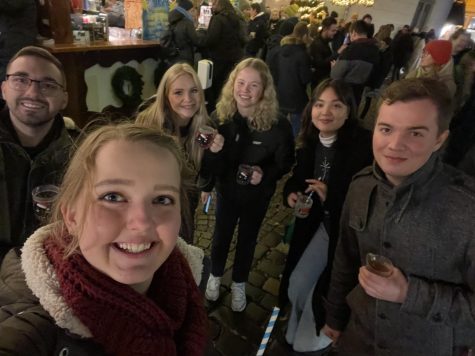 Olivia Dunn, third year international studies major, grew up in a Polish American household and knew she loved languages and travel at a young age. She learned Polish and has a language certification in French, but when it came time for her to choose a location for her study abroad program, she decided to pick a country with a language she had no experience with. 
"When I found the program that they had in Germany, it just sort of clicked for me," Dunn said. "I [did not] care about not knowing the language because there's no better place to learn the language than the place you are going to be in that speaks the language."
The European Studies in Global Perspectives program at Carl von Ossietzky Universität Oldenburg in Germany was exactly the kind of study abroad program Dunn was looking for and started teaching herself German as soon as she turned in her application. 
"I know that in a lot of places you can get by in English … but it means so much to the people and it will mean so much to you when you learn their language," Dunn said. "I didn't speak any German and I had to work my butt off to learn German before I came here … I started learning in May, and then I actually took a test and I tested into a higher level through teaching myself."
As an international studies major, studying abroad is a graduation requirement but Dunn says the experience was something she knew she wanted to do since she was a little girl. Due to COVID-19, study abroad programs across the globe have been limited and student participation occurring mostly among those with a study abroad requirement. 
While COVID-19 has definitely played a role in Dunn's experience in Oldenburg, Germany, she says it has not impacted her ability to meet people and travel as much as she had anticipated. The pandemic has forced many of her classes to be online or in a hybrid format, but she has still been able to visit other cities and places in Europe. 
"They have a lot of stricter guidelines in Germany, when it comes to COVID," Dunn said. "So you're always looking at the different rules, but I've actually been able to travel to different countries."
However, Dunn has not been able to travel back to the United States during her stay in Europe. Over the winter holidays, she stayed in Germany and was able to visit different Weihnachtsmarkts or Christmas markets with her new friends. 
"I didn't expect to make such close friends so fast. I think I will keep those people with me for a long time," Dunn said. "They are wanting to come visit Michigan. They are like, 'we have an American friend, now we can visit America.' And they want me to visit their countries too."
Dunn has been able to make friends from around the globe, including from Finland, Columbia and India. 
"I didn't really get homesick until two months in, but I think it's because I was lucky to have such a welcoming and warm environment that I was put into," Dunn said. "They had a buddy program where I had someone help me move in and then there were just all these people who were so kind to me."
Finding such a welcoming environment in Germany helped Dunn meet lifelong friends and become comfortable living abroad for the first time, but she has still experienced bouts of homesickness and occasional lapses in her mental health. The fact that Oldenburg's weather is often gray, cloudy and rainy does not help. 
"The sun sets at 4 p.m., sometimes earlier. It is pitch black and gray almost all the time," Dunn said. "It doesn't snow, it just rains and I think maybe it was surprising, the seasonal depression that I got from that. I had to be proactive and work against it."
One of the ways Dunn has prioritized her mental health is by taking advantage of the extensive bike paths in Oldenburg. 
"Oldenburg is one of the most bikeable cities in the country. On the sidewalks, there's actually bike lanes, walking lanes and separators [between them] so I can bike around the whole city," Dunn said. "You go downtown, which they call the city center, and there are hundreds of hundreds and hundreds of bikes. It is wild."
Along with biking, Dunn also has access to a network of public transportation systems that allow her to travel by train to nearby countries such as the Netherlands. Despite being on her own in a different country, Dunn says she has felt fairly safe moving from place to place. 
"I feel a lot safer here with COVID and in general with crime, violence and as a woman," Dunn said. "The biggest crime rate in Oldenburg is bike theft. That's something to think about."
The feeling of safety Dunn has in Oldenburg was a bit of a culture shock for her, but she says one of her favorite differences between Germany and the United States is how direct and literal people are. 
"I have to stop myself from saying 'how are you' to people as a greeting, because if you ask someone 'how are you' here, they will tell you how they're doing," Dunn said. "They are not just like 'oh, I'm fine.' They are like 'my dog just died and yesterday I found out I had cancer.' They will tell you straight."
While Dunn's classes have been as exciting and educational as she had hoped, her favorite part of her experience abroad so far has been meeting new people. She says living in Germany has also helped her learn new things about herself and become more independent. She says she highly recommends students take advantage of the opportunity to study abroad, even if it is not a requirement. 
"You get to meet so many people from around the world, you become more well cultured, more well rounded, and you might even learn something new about yourself," Dunn said. "It is ultimately going to help you more in the long run, and also give you a valuable experience."