The influential women NMU residence halls are named after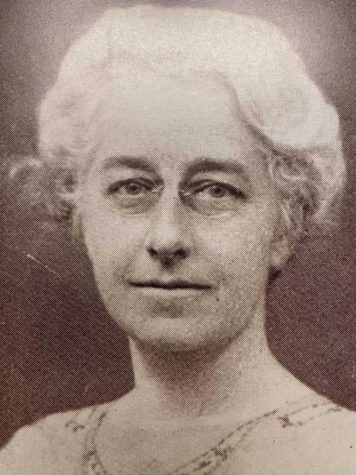 Correction: This article has been updated on March 6, 2021 to more accurately represent the historical documents found regarding Grace A. Spalding.
As we approach the month of March, and consequently Women's History Month, it feels like an appropriate time to look at some of the influential women who have made waves at NMU. 
Beginning in 1899 as Northern State Normal School, Northern Michigan University has had many women come through its doors, as students or professors or both, who have positively influenced the university and community. 
Two particularly notable women are Grace A. Spalding and Maude Van Antwerp. 
Spalding began at Northern as a one-woman art department in 1903, remaining head of the department until 1938. Prior to Spalding, art was taught in the geography department. Spalding created the first art department's offerings including drawing, advanced drawing, composition and design, history of architecture and history of painting. To become more well versed in the subject area for some of these classes, she took a year's leave to study in Europe. During this time, she studied in Paris academies, Italy and Greece. 
She was greatly inspired by her travels, collecting qualities that made her a great and aspiring teacher. Many of her students had not traveled out of the Upper Peninsula, so she was bringing her immense knowledge and a different world-view. 
Spalding worked with numerous art centers in the United States throughout her career including the Fogg Museum at Harvard University, the Metropolitan Museum of Art in New York City and the museum at the University of California. 
She was a very talented artist with painting exhibitions in New York City, Chicago and Marquette. Some of her work is still displayed in the DeVos Art Museum at NMU. 
Her favorite subject to paint was the Upper Peninsula. From its sand and rocks to pine trees and Lake Superior to changing fall leaves and scarlet huckleberry bushes, the U.P. provided Spalding with artistic inspiration. She owned a summer cottage on Middle Island Point where this subject matter was abundant.
Her artist friends in New York City frequently sent exhibits to Northern that she made available to the university and the community. 
Spalding was encouraging and sympathetic to colleagues and students alike. She built strong relationships with people far beyond the realm of the art department, assuming the role of dean of women before Northern had an official full-time position. 
According to an article accounting Spalding's time at NMU, during her residence in Marquette, Spalding "made a home" with Ethel Carey, the woman who assumed the full-time position of dean of women. In 1956, NMU honored Spalding by putting on an art exhibit of her paintings in Lee Hall in the dining room between Carey and Spooner Halls. She passed away the following year at the age of 81.
Van Antwerp began teaching in the NMU English Department in 1928 and served for 25 years. 
Before coming to Northern, Van Antwerp received her bachelor's degree in education from Western Illinois University in 1921 and then her master's from Columbia University in 1926. She taught and was a principal in a village school and studied at the University of Chicago and the University of Colorado. 
When she began at NMU, there were just over 50 faculty members and about 800 students enrolled, creating a closeness between the professors and students. She specialized in reading techniques and remedial reading — she was suited well for her position due to her broad training and experience and good judgment in teaching methods. 
Van Antwerp served as an advisor to NMU's Kappa Delta Phi Honorary Society, an organization for outstanding students in the field of education. 
In his 1968 dedication letter to the Hunt-Van Antwerp residence halls, Don H. Bottum describes Van Antwerp as "the salt of the earth", a strong, steady, reliable individual who provided well for her university and community. 
Following World War II, she made sure that the women living in the VetsVille crowded conditions were provided with fruit, jars of preserves and homemade cookies. 
Van Antwerp passed away in 1970 at the age of 81 but her name will live on through the mouths of students visiting the residence hall that she is named after. 
Spalding and Van Antwerp were two strongly influential women who made massive marks on Northern. Without their position at the university, it would not have evolved to be as it is today. Their names will forever be remembered in NMU history as women whose presence brought comfort, inspiration and friendship.
Editor's Note: Historical information used in this article came from the NMU Archives.