Former NMU first lady to present her book at library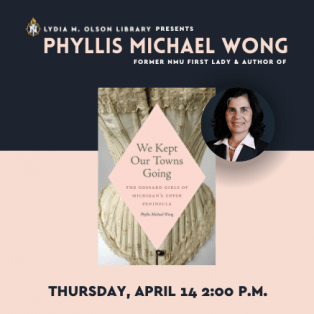 Phyllis Michael Wong will be visiting the Lydia Olson library to present her non-fiction book We Kept Our Towns Going: The Gossard Girls of Michigan's Upper Peninsula. Wong was Northern Michigan University's first lady from 2004 to 2012, as well as the first lady of San Francisco State University from 2012 to 2019. This event will take place in LRC 224 on April 14 from 2 to 3 p.m.
Wong is a historian and educator. At this event, she will discuss the process she went through while researching and writing her book. Copies of her work will be for sale in the library.
"Discussing the influence of the H.W. Gossard factory on female workers within the Upper Peninsula of Michigan, Wong shares the stories of the Gossard Girls who fueled the local economy and challenged societal expectations throughout the 20th century," according to the NMU Event Calendar.
Attendance is free. Interested students can register to attend this event via the Hub.
Wong's appearance at the library will be preceded by an accompanying presentation on April 13 at the Marquette Regional History Center.