Opinion — 8 places to photograph around Marquette before the leaves drop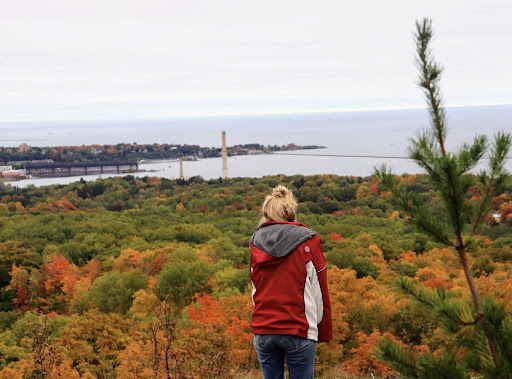 Fall in the Upper Peninsula is taking winding back roads to amazing displays of fall foliage. Get outdoors and see the colors while they are here. Below you will find some go-to fall places along with directions and tips on visiting each spot. Drive time, quality of vantage points and accessibility were all taken into consideration when deciding what places to add to this list. 
Mount Marquette (also known as Mount Mesnard)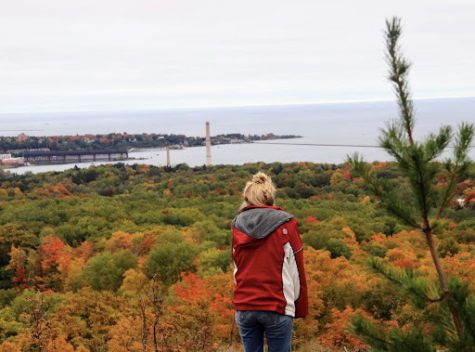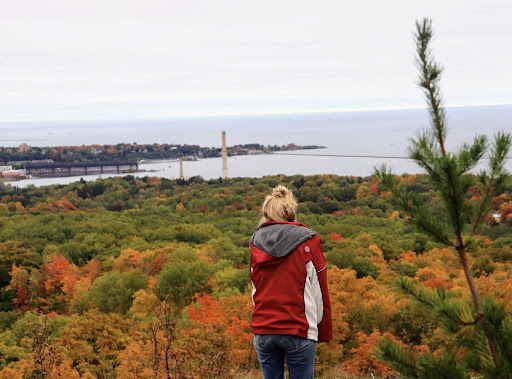 Mount Marquette is one of the tallest and most accessible peaks in the county. While driving down US-41 towards Harvey, on your right at the bottom of a hill there will be a road named Cliff Powers Drive. Turn down this road and continue around half of a mile. There will be a sign labeled Mount Marquette and you will veer right once again. Take the steep dirt road for a mile, and there will be two small parking areas to pull into. Walk a few hundred feet, and you will be rewarded with multiple overlooks of the city of Marquette and Lake Superior.
Sugarloaf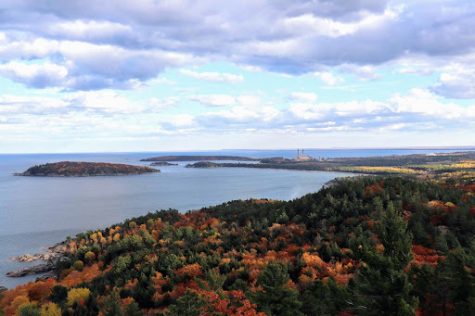 Sugarloaf Mountain is sometimes seen as the number one destination in the Upper Peninsula, making it especially popular in the fall. If you can handle the crowds, this hike is breathtaking. Stairs have been built into the granite to assist people in climbing to the summit. There are also restrooms in the parking lot and interpretive signs lining the trail that provide you with information on the area. To reach the trailhead, drive 3.5 miles down County Road 550 towards Big Bay. On your right there is a large parking lot that you cannot miss. The trail is 0.7 miles each way, or 1.6 miles round trip. The trail eventually splits two ways based on difficulty, but both end up at the summit. This steep but rewarding trail gives you some of the best views around. 
Top of the World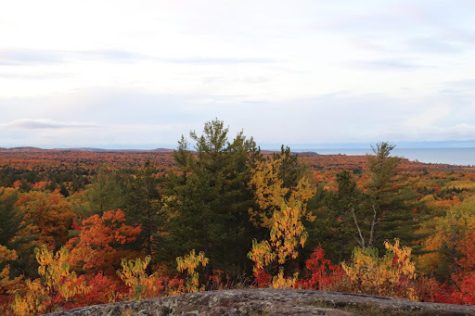 Another breathtaking location, Top of the World, is a woodsy area filled with exposed granite outcroppings. Reaching this location is no easy feat; however, I find it adds to the adventure of visiting. Drive 6.6 miles down County Road 550 and turn left on Harlow Lake Road. Drive past the cabins and over two bridges. Take the road going up into the trees. Use your discretion on whether to drive or hike the road to the top. A small pull off one mile up the road on your right is the trailhead. From there, hike 0.2 miles to the summit overlook. 
County 510 bridge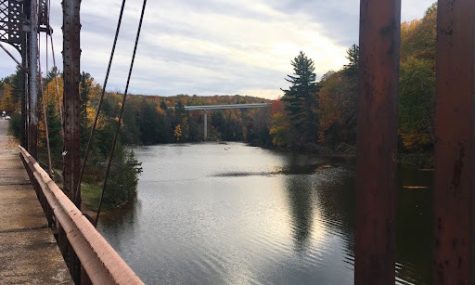 Driving down County Road 510 during autumn is a sight to be seen. Make a pit stop at this retired trestle bridge outside of Negaunee to shoot fall photography with a rustic backdrop. Take US-41 towards Negaunee and turn right on Midway Drive. Quickly, you will take another right onto County Road 510. Travel this for around two miles before turning right onto Bridgewood Lane. Park at the pull off on the side of this road to get the best views of this bridge. Walk out onto the middle of the bridge to get additional vantage points. 
Black Rocks/Presque Isle Park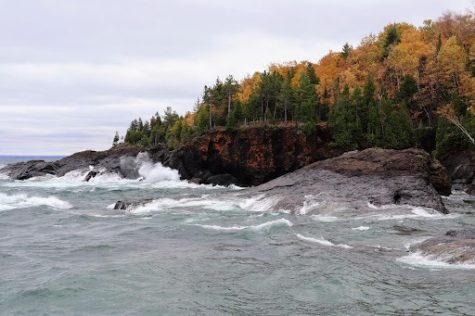 A classic Marquette fall tour would not be complete without a stop at Presque Isle Park, or more commonly known as Black Rocks. There is no shortage of places to immerse yourself in nature here, with hiking trails, playgrounds, overlooks, and a nearly two-mile scenic drive that winds around the island along the shores of Lake Superior. With so much to do, you could spend a whole day there exploring fall colors. This park is located less than five minutes from campus along Lakeshore Drive. 
Hogback Mountain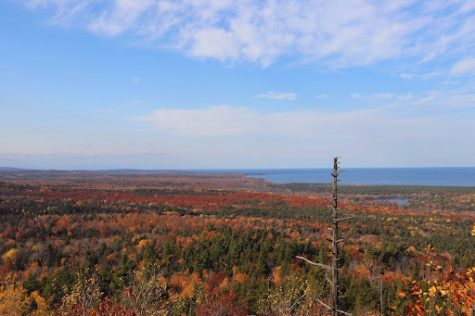 If you are in the mood for a longer, more technical hike, make your way up Hogback Mountain. This trail winds its way for 2.8 miles through forests, bogs, and rocks before opening up to some of the most unobstructed views in the area. To get here, take County Road 550 towards Big Bay about four miles, and an unmarked dirt road veers left right before a wide curve. This is the Wetmore Pond Trailhead. There are a few trails leading from this parking lot, so be sure to bring a map because trails are not well distinguishable. Follow the white blazes on trees for roughly 1.4 miles until the trail ends. Spend some time at the summit, then return on the same trail. 
Thomas Rock Scenic Overlook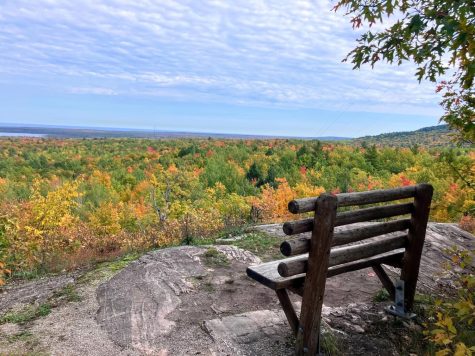 Big Bay and the surrounding area deserve a fall weekend to themselves; however, if you are short on time, make Thomas Rock a quick pit stop. It is a highly accessible overlook that has educational signs lining the trail. They detail local flora, fauna, and natural features seen at Thomas Rock. Near 360-degree views look out from the summit towards the Huron Mountains and Lake Superior. This overlook is roughly 26 miles from Marquette. Take County Road 550 towards Big Bay for 23 Miles. Turn left onto County Road 510 and follow it for a mile before making a right into the parking area. The trail is very well marked, and roughly 0.6 miles round trip – 0.3 each way.
Jasper Knob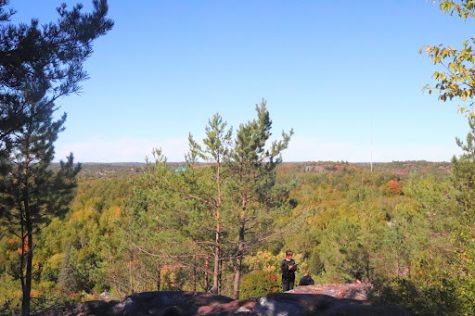 Jasper Knob, located in Ishpeming, is a lesser known, but totally worthwhile destination to view fall colors. The entire mountain is made up of jaspilite, a type of iron formation native to the U.P. From Ishpeming, find Jasper Street and the dirt pull off on the right. It is tucked in the back of a neighborhood downtown and is unmarked besides a small set of stone stairs. Follow the steep path up 0.2 miles to the summit. With only a 0.4 mile walk round trip, this gemstone of a hill is definitely worth your time.