Winter nearing: Ripple Effect Coat Closet provides winter wear for students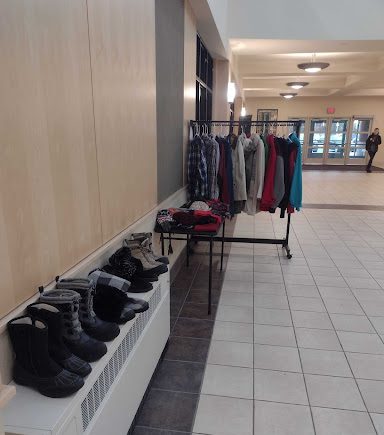 The Ripple Effect Coat Closet, a resource created for students in need of winter wear, is back outside of the Dean of Students Office (DSO) in the Hedgcock building. The coat closet not only provides coats but also hats, mittens, scarves and boots. 
Linda Sirois, Assistant Dean of Students, said the coat closet was created around five years ago as a partnership between NMU and local churches and citizens. Students were donating clothing items through Student Support services for several years prior to the effort to create the closet through Ripple Effect of Marquette County. 
According to their Facebook page, the Ripple Effect of Marquette County is a student and community organization that focuses on connecting NMU's students with the community by ensuring that their happiness and basic needs are met.
To use the coat closet all a student needs to do is walk up, find their correct size, take it and then leave. However, the sign on the coat closet does read that the items donated are for students who cannot afford proper winter wear. 
"The need has been apparent for a while," Sirois said. "These donated goods and services are intended to help struggling students get through college while having their basic needs met." 
The coat closet is maintained by the members of Ripple Effect, who shop for new end-of-season goods or accept donations from students and other members of the community. 
If a student is unable to find winter wear in their size, they are encouraged to reach out to [email protected] or [email protected]. The organization will hold back an item after donation or purchase until the student comes to pick it up.
"Please let students know that we are ready to help," Sirois said. "If they are a student who needs a larger size, or who wants to let us know of their need, we can see what we can do with some of the donated funds, or request a certain size, etc."  
For those who are looking to donate winter wear, whether they are a student or local community member, bring the gently used or new donations to the DSO in Hedgcock and a staff member there will accept it. The Ripple Effect committee is also ready to accept new members. If interested, contact [email protected].
Sirois said if a student is nervous about utilizing the closet, they are encouraged to think about it as financial aid from NMU.
"Ripple Effect has its name because we believe that when community help is accepted by students, that helps them to persist and earn their degree," Sirois said. "They then go out into the community and are able to pass good things on to others. That's the ripple effect."