Conservation Data Lab encourages conservation contributions from NMU Students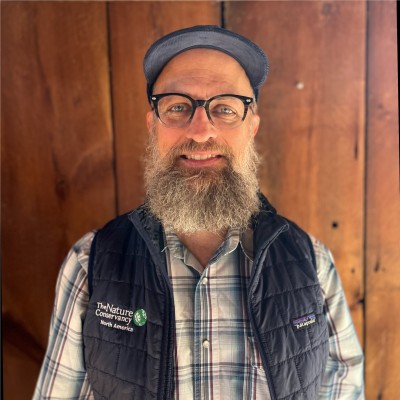 Randy Swaty's interest in studying ecology first happened in a tire shop when he was 17. 
"I was at a tire shop getting tires and I read this article about how The Nature Conservancy was working with ranchers to increase biodiversity while not reducing yield of their crops," Swaty said. "That really blew my mind because I thought environmental groups just chained themselves to trees or put sugar in gas tanks in bulldozers. I didn't know people work together like that when I was like 17. So that stuck in my mind."
He knew he liked the environment after being able to play in the local creek and park near his home in Little Rock, Arkansas and pursued a degree in biology. After struggling in undergrad, he rediscovered his love for learning and graduated with a masters degree from Northern Arizona University.
He has studied mycorrhizal fungi and is now a research associate at NMU and an ecologist for The Nature Conservancy, where he has worked for almost 22 years.
Swaty was brought into The Nature Conservancy through his mentors, where his first job was working with loggers and foresters to do landscape scale analysis.
Swaty is a part of The Nature Conservancy's LANDFIRE, a federal program that maps vegetation and fire characteristics for all the United States. The specific team that Swaty is on focuses on doing user support and to help people use the data appropriately. Swaty also started and is the co-leader of the Conservation Data Lab. 
"[The Conservation Data Lab] is a group of young professionals and students who are learning technical skills such as GIS or coding," Swaty said. "They're contributing to conservation projects and just building this amazing community."
The Conservation Data Lab is composed of Northern students and other volunteers who are using live fire data to explore various conservation challenges. There are about 10 members in the group who come and go when they have time to dedicate to the project.
Swaty has also previously had students do internships with him. 
"It's challenging and rewarding for me and the student, because I rarely have a recipe or a straightforward project for somebody," Swaty said. "It's rare that somebody shows up and I'm like, 'Okay, step one, do this. Step two, do this.' Usually it is very iterative and involves some frustration and feeling confused and lost for both of us. And that's just the real world. It's just how it goes."
One of the students Swaty has worked with is junior Environmental Science student, Mary Kelly. Kelly reached out to Swaty for a summer internship and started working on a self-directed project analyzing old growth forests in Western Oregon. 
"I'm kind of making a chart of the percent change [of old growth forests in Oregon] over time, which is very depressing because it's a negative 81% change in some cases," Kelly said. "But it's also interesting for me and a way for me to build my skills."
For Kelly, the self directed aspect of the internship has been a positive experience and she has developed a supportive relationship with Swaty. She is also a part of the Conservation Data Lab and has weekly conversions with Swaty that have strengthened their relationship.
"It's a lot of independent work. Randy is super supportive and he's there whenever I need him, but it's definitely a lot," Kelly said. "It's a lot on my end to direct it, and then if I need help with something, I just be like, 'hey, can you help?' I ask him questions and he's super responsive."
As far as advice goes for current students Swaty recommends students make the most of their time in college, that they should make use of their time. Go to carrier services often, join clubs and spend time with friends and family.
"I think the professor's here in general really want those hungry students, they want to be approached," Swaty said. "It's a short time of life, it feels like it's forever when you're studying for an organic chemistry test or writing four papers at once. I know it feels crazy, but this is a great time alive, so just make the most of it."