Opinion – Top 5 winter wonders of Marquette
Not only is Marquette home to some of the most fun activities in the summer and gorgeous colors in the fall, but it also has a lot to offer in the winter. If you are a person who is not really into recreational activities like skiing and snowmobiling, then why not go on a hike? This article will help you find the perfect trip to take this winter, including directions, hike difficulty and what to expect from these icy wonderlands. 
Remember to always be safe while hiking. Having the right equipment like shoes and outerwear is very important for your safety when hiking in the winter. Also, remember to follow the rules of the trail and notify someone where you are going in case of an emergency.
For more information on how to recreate safely during the winter season, check out this article that outlines several essentials that should be carried while adventuring outdoors.
Dead River Falls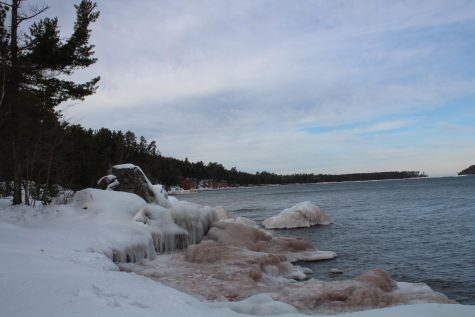 Dead River Falls is a beautiful waterfall located just a few miles from the university. The mild hike is about 1.5 miles round trip and is full of different views. This hike has several cascading waterfalls that drop over 90 feet. Once you get to the first falls the rest of your hike will be along the riverbank. Weaving through trees and hearing the water rush, this hike is one to try.
To get to Dead River Falls from Northern Michigan University, first turn left onto Wright Street. Stay on Wright until you reach Forestville Road, then continue down Forestville for about two miles until you reach a powerhouse. After you reach the powerhouse there will be a parking lot and a trailhead sign where you will start your hike up a large gravel hill to the first of many falls. 
Wetmore Landing Shoreline Trail
The Wetmore Landing Shoreline Trail is considered one of the best hikes in Marquette. With the trail being about 3.6 miles round trip, it leads you along the shoreline of Lake Superior and to some unknown gems, including a hidden beach. Giving you multiple places to see some astounding views, this trail is a mild hike with a 374-foot incline that looks over the shoreline of Lake Superior, making this path one to take.
This hike can begin at either Wetmore Landing or Little Presque Isle, depending on where you would like to park. To get to this trail, head down County Road 550 until you hit your preferred starting area, which will be marked with a sign on the right side of the road. After parking, head down the main trail until you hit a crossway. If starting at Wetmore, turn left onto the trail. If starting from Little Presque, turn right.
Eben Ice Caves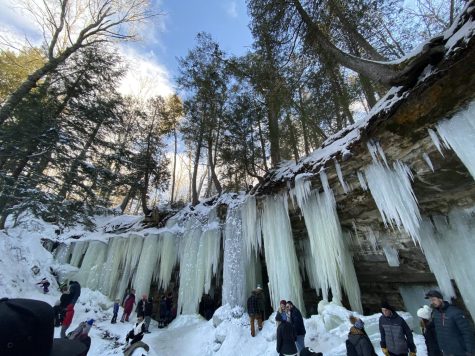 The Eben Ice Caves are somewhat of a wonder in the U.P. With large masses of ice dripping down a tall cliff, the view is not something you see often. This hike is about 2.2 miles round trip and relatively easy regarding the conditions of the trail but be prepared as you may take a fall on the ice. Not only are the ice caves themselves beautiful, but the overall hike takes you through snow-covered trees along a nearby river that you can hear almost your whole hike. 
To get to the Eben Ice Caves, head down M-94 until you hit Eben Junction. Then turn left onto Eben Road and drive about 1.5 miles to Frey Road. Turn right on Frey Road and drive to the end. You will hit a large field and that is where you can park. Once you park, head down the formed path and you will be on your way to see the great scenery that the ice caves have to offer you. 
Yellow Dog Falls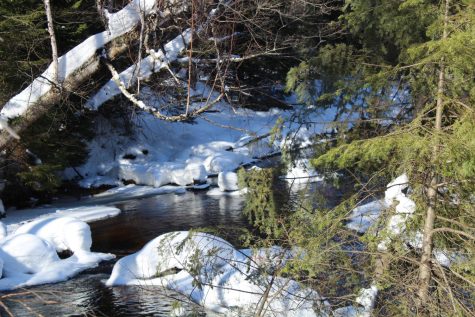 Yellow Dog Falls, located closer to Big Bay, is a bit of a drive but well worth it. Depending on how long you want to hike, you can see up to four falls. While all beautiful and very different from one another, the hike to the last fall is well worth it. Yellow Dog is filled with beautiful scenery including walking the bank of the river, crossing streams and large rock formations that are unique to this trail. This is a relatively easy hike, but with increasing inclines and less traveled paths, the further you go the harder it gets.
To get to these falls, make your way to County Road 550 and head straight towards Big Bay for about 25 miles. Turn left onto County Road 510 and stay straight for three miles until you hit a dirt road marked with a sign pointing to the falls where you will turn left. Head down this road for about seven miles and there will be a parking lot on the left side of the road that has about seven spots. You will know you are in the right spot if the trailhead starts with you climbing around some boulders that may be snow-covered. 
Thomas Rock Overlook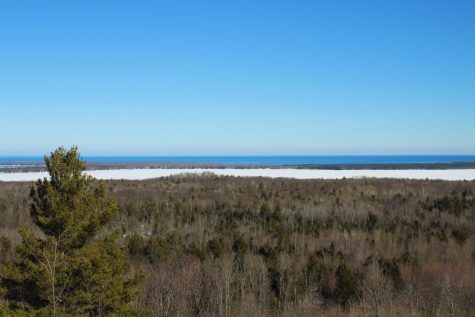 While you are over in Big Bay for Yellow Dog Falls, you might as well hit Thomas Rock Overlook. This short and easy hike will take you maybe 30 minutes to an hour but will introduce you to some views that cannot be beaten. Almost completely vacant in the winter, you can take your time enjoying what this overlook has to offer and explore the surrounding area.
With almost the same directions as Yellow Dog, to get to this overlook make your way to County Road 550 and head straight for about 25 miles. Turn left onto County Road 510 and stay straight until you hit the Thomas Rock Overlook large rock sign. There, you will turn right into the parking lot where you will see the trailhead and follow it to the high point.
Editor's Note: The North Wind is committed to offering a free and open public forum of ideas, publishing a wide range of viewpoints to accurately represent the NMU student body. This piece is a guest column, written by a Northern Michigan University student, faculty member, or community member. It expresses the personal opinions of the individual writer, and does not necessarily reflect the views of the North Wind. The North Wind reserves the right to avoid publishing columns that do not meet the North Wind's publication standards. To submit a guest column contact the opinion editor at [email protected] with the subject North Wind Guest Column.