Lake safety refresher
As temperatures warm, proceed with caution around Lake Superior
The body of an ice climber who recently went missing near Miner's Castle at Pictured Rocks National Lakeshore was recovered by local search and rescue teams this past week.
The climber was discovered 30 yards off Lake Superior's shore on Feb. 12, roughly five days after he began recreating. The delay in rescue came as a result of poor lake and weather conditions. High Lake Superior waves were the cause of the climber's death, which swept him off the rock ledge. 
This incident on the Lake Superior shoreline is far from isolated. In 2022 alone, there were six drownings on Lake Superior, all of which led to death. The reported deaths resulted from either attempting to save others or jumping off cliffs.
Through his work at the NMU Police Department, Sergeant Adam Maynard said that safety while recreating in and around Lake Superior is something that is heavily stressed. 
"If you got that gut feeling of 'I probably shouldn't do this,' it's probably not a good idea," Maynard said. 
Before Maynard became a sergeant, he responded to several water-related emergencies in the area. A handful of those incidents involved college students.
"One was an 18-year-old college student. He had just come up from out of town and was a really strong swimmer," Maynard said. "Unfortunately, he wasn't strong enough, and that is why shortly after, we started getting our water safety flags out."
The beach flag warning system uses three colors – green, yellow and red – to indicate current lake conditions. A green flag means the water is safe, but swimmers should be cautious of shifting conditions. A yellow flag indicates caution and encourages swimmers to be aware of dangerous waves and rip currents. If a red flag is being flown, swimmers should stay on the beach and avoid entering the water. 
Maynard said that the water safety flags are often located in areas with recurring incidents, like Picnic Rocks Park, McCarty's Cove and Middle Bay Beach. 
If planning to swim in Lake Superior during the summer months, it is recommended to always swim where a lifeguard is present. There are six beaches within Marquette that house lifeguards during the summer season, which starts near the end of May and continues until the beginning of September. All lifeguards are certified by the American Red Cross and have both lifeguard and waterfront training.
During first-year orientation, the university encourages students to explore Lake Superior and its beauty. However, they dedicate a portion of orientation to lake safety and precautions, including never swimming alone, an explanation of rip currents and safe swimming locations.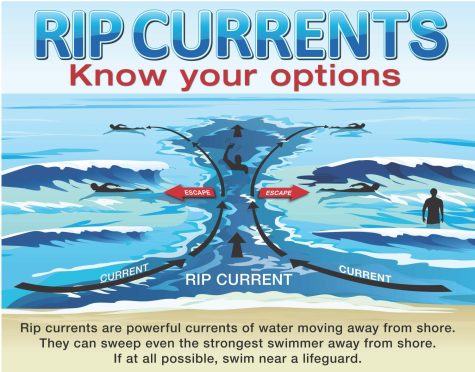 Patrick Myers, a resident advisor at NMU, has the responsibility of teaching students how to recreate safely around the lake.
"The lake is so big that it acts more like an ocean than a lake," Myers said. "It's important that people who have no experience with the Great Lakes, people that didn't grow up around them, are cautious."
According to the National Weather Service, rip currents are a major cause of drownings. Rip currents are powerful, narrow channels of fast-moving water that can occur wherever breaking waves are present. If caught in a rip current, it is recommended to not fight the current head-on. Instead, swimming at an angle that is parallel to the shoreline produces the best result for struggling swimmers.
Other helpful tips when out on the beaches include paying attention to the weather, never swimming alone and being mindful of your surroundings. 
"We don't want to freak anyone out that's coming up here to school, but unfortunately people have passed away, students have passed away, and we're upfront about that," Myers said.
For more information regarding safety on Lake Superior, visit the NMU website.