Baking with Madoline — Thumbprint heart cookies
Valentine's Day is behind us, but love is still in the air with sweet crumbly treats that many college students can make in their own homes. If you take a look in your pantry, you'll likely already have all of the ingredients and materials you need to bake your own fresh heart-shaped jam-filled cookies. 
This recipe requires 30 minutes of preparation time and 14 minutes of cooking time.
Ingredients:
1 cup unsalted or salted butter (softened)
2/3 cup granulated sugar (optional: plus 3 tablespoons for rolling the cookies)
2 large eggs (room temperature)
1 teaspoon pure vanilla extract
1/4 teaspoon salt
2 and 1/3 cups all-purpose flour (spooned & leveled)
1/2 cup strawberry and/or apricot jam
Materials:
Rubber spoon
Medium-size mixing bowl
Baking sheet
Measuring spoons and cups
Parchment paper 
Hot pads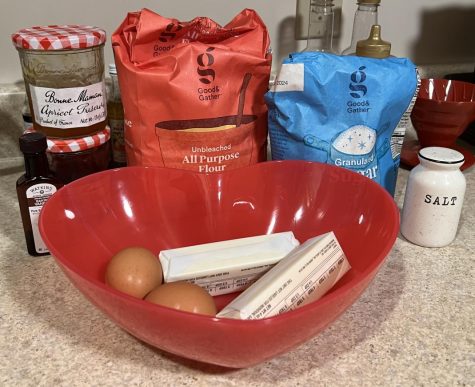 Directions:
Preheat your oven to 350 degrees Fahrenheit and line a baking sheet with parchment paper to set aside for later. Grab the two sticks of butter and unwrap them into the medium-size bowl to be heated for one minute.
Taking the same bowl with the melted butter, mix in the eggs, vanilla extract and salt until combined thoroughly. Once completely blended, add the flour, and if the mixture is not sticky, add flour or water as needed. I found I needed to add more flour as my mixture had too much liquid to properly roll into balls.
Take the dough and roll it into small balls using a cookie scoop or your hands. I think using your hands is the most efficient way to do this, and once rolled into balls place them onto the parchment paper about one inch away from each other. This is an optional step, but you can roll each ball into the extra three tablespoons of sugar for added sweetness if you decided to use unsalted butter or less sugar initially.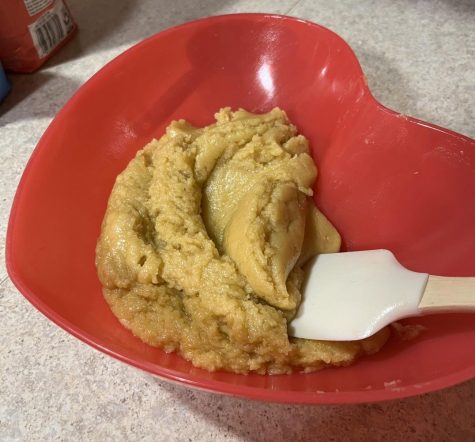 Using your thumb, press two indentations into each ball of dough to try and create a heart shape. Once your dough is indented, scoop ½ teaspoon of jam into the indentation of each cookie. I would recommend using your fingers to make sure the jam is in the shape of a heart. I used the Bonne Maman Strawberry and Apricot jam which is quite delicious.
Take your baking sheet of dough and place it in the oven for 12 to 14 minutes. I recommend taking them out once the outside crust of the cookie is golden brown. Once you take them out of the oven, let them cool for 10 minutes on a few heating pads before transferring them to a cooling rack.
As someone who doesn't bake too often, this is a very easy and cost-efficient way to make a sweet treat as a college student. The time it took to prep and bake didn't take long at all and I already had most, if not all of the materials and ingredients necessary for this recipe. If you're someone new to baking or if you need to bake cookies in a pinch, this is the recipe for you.