Welles: Companion, confidant, service dog
A dual service/therapy dog's impact on life at the office
In the heart of campus lies C.B. Hedgcock, a building often associated with administrative work, financial aid and the dean of students office. The large hallways remain relatively quiet throughout the day, with students quickly passing through as classes end. 
But every morning, before the earliest classes begin, the lower level of Hedgcock echoes with the rapid tip-tapping of paws across its floor. Welles, a nine-year-old English Labrador Retriever, has been struck with a case of "the zoomies" and can be seen flying from office to office, greeting everyone in his line of sight.
"Every morning, him coming to my desk to get treats is my favorite. I love when he walks in," said Amber Emanuelson, senior admissions processor at NMU. "He knows everybody's desk that has treats for him, and he just makes his rounds."
Welles is the service dog of Michael Rutledge, an army veteran who served for 22 years and is now the coordinator of student veteran services at NMU. Rutledge met his new companion in August 2015, when Welles was just 18 months old and had recently "flunked" out of the guide dog program at Leader Dogs for the Blind in Rochester, Michigan.
"As soon as he failed out of the guide dog program, he was given back to the puppy raiser who also trains service dogs for veterans," Rutledge said. "When she found out that Onyx, my first dog, had passed away, she let me know that [Welles] was available. So really 20 days from the time [Onyx] passed away, I had Welles."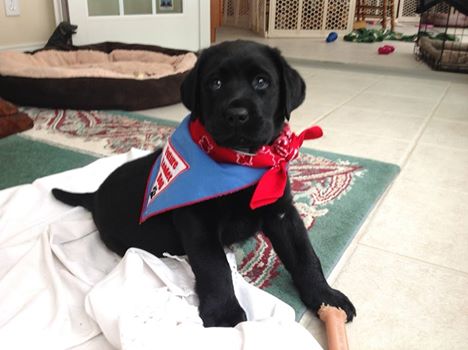 When a service dog is paired with a veteran, they are trained to assist the individual and their specific needs. In Rutledge's case, mobility issues prevent him from bending down easily, which makes it difficult to pick things up off the floor or do household chores. Welles has been taught to complete several tasks to assist Rutledge daily.
"He can take laundry and put it in the dryer from the laundry basket. He can help me get up and down," Rutledge said. "With the command 'brace' he will stand still and I can use him to get up out of a chair or whatever."
Another reason many veterans have service dogs is for the sense of companionship that often develops between an owner and their pet. Knowing how amicable Welles was, Rutledge decided to have him certified as a therapy dog on top of his service dog status. 
"I had him certified as a therapy dog simply because I never really minded people petting him because that is therapeutic for me," Rutledge said. "He loves it and is very social."
However, not all service dogs are therapy dogs. Rutledge said that it is important for students to remember that when they see a dog with a vest on, they should not approach the dog and should always ask for permission from the owner before interacting. Most vests are clearly marked with signage that reads "DO NOT PET".
"A lot of people with service dogs would not want their dogs to be therapy dogs, and I think 19 years ago when I got out of the army and got Onyx, I wasn't ready for something like that," Rutledge said. "But it has been so long now and I am very comfortable, so now it is not a problem."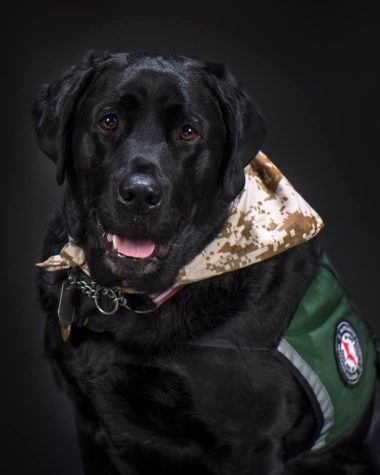 Although not incredibly rare, Welles' dual status as a service and therapy dog makes him an exception to the standard rule that service dogs are for their owners only. Rutledge started in his position at NMU a few months after being paired with Welles in 2015, and the duo has been side-by-side in the veteran services office ever since. According to Rutledge, Welles's presence in the office helps contribute to a positive work environment.
"From what people tell me, he just makes everyone happy," Rutledge said. "He visits everyone every morning. He will stop and say hi to everybody and obviously you can see how it lights up people."
According to Rutledge, Monday is Welles's favorite day of the week. After patiently waiting to hop in the vehicle at the start of the week, Welles will immediately make his rounds through the Hedgcock office spaces as soon as he gets to campus. He is sure to greet everyone he passes, but especially those who he knows to have doggie biscuits or treats waiting for him.
"He is so happy to be here on Monday mornings," Rutledge said. "Even just two days at home with me, and we go out, we'll go out to the store and do things, but he just likes being around here in the building."
To many in Hedgcock, Welles has the power to leave a lasting impression. Traces of the therapy dog can be seen at the desk of Sam Richards, a student worker in the Registrar's Office, whose cubicle wall is plastered with stray black hairs from Welles' wagging tail.
"I love him. There was this one day when he just sprinted past my desk," Richards said. "The first day I came here he scared the crap out of me and then slimed my jeans. That was pretty cool."
And just as people love when he comes to visit, Welles also appreciates the attention of employees — so much so that if his presence is not acknowledged he will make sure he is seen.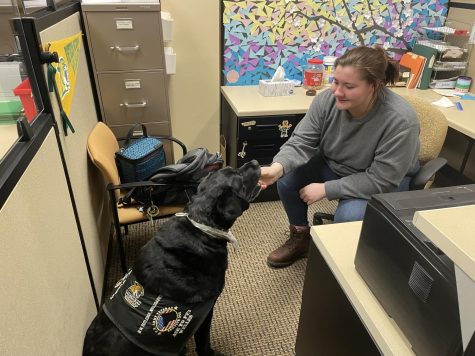 "If you don't pay attention to him when he comes in your office, say you are on your phone, he will woof," Rutledge said. "He doesn't bark loud. He's got a quiet little bark just to say 'Hey, I'm here, pay attention to me.' He is just a sweet soul."
To say Welles is an office celebrity would be quite an understatement. In addition to boasting several visitors a day, both new faces and regulars, he has the keen ability to sense when an individual is in distress. When someone enters the office anxious or under some kind of pressure, Welles instinctively wanders by and sits next to them. 
Welles' warm and welcoming impact on those who work in Hedgcock is apparent. Not only does everyone know who he is, but they all love having him around.
"Everybody loves Welles," Emanuelson said. "When we have visitors out in the hallways, everybody's eyes just light up. They love to see him come in and mingle with the people. The incoming freshmen love it too."