The friendly game of intramural volleyball
Volleyball is one of the many intramural sports that Northern Michigan University offers, providing a great community of individuals who are looking for a relaxed environment to enjoy the sport. In addition to reinforcing friendships, the sport also provides benefits for students at NMU, such as physical fitness.
Unlike collegiate-level sports, intramural is co-ed and student-run, which makes it easy for all students to play a sport they enjoy. With the second half of the season starting up after spring break, teams have been getting back into the flow of play. 
"This team was just all of our neighbors who decided we were going to put a team together," said Savana Driesenga, a secondary special education major. "There's low stakes, low pressure, we just get to come in and play with our friends and have fun."
Driesenga played volleyball in high school and enjoys the relaxed flow of intramural sports now. Her favorite memory from last year is winning the championship and she now hopes to win a game this season with her community of neighbors.
Liam Jeevar, an economics major, had another community experience where students just hanging out at the ice rink decided to form a team.
"Everybody's nice, everybody's friendly and we're all having a good time," Jeevar said. "A lot of amateurs so … you don't go too hard. Just have fun with it."
Jeevar likes seeing new people surrounding volleyball, mainly because all participants are there to enjoy playing the game.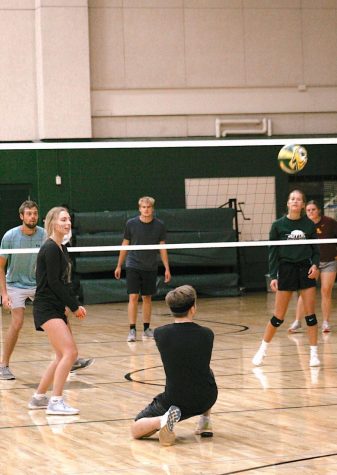 "I think it's good to get exercise. You got to keep your mind clear. Volleyball also gives you a sense of community," Jeevar said. "You see people around campus that you play with and it's good."
Jeevar mentioned the mental health benefits of joining an intramural sport on campus, allowing students to see new people and clear their minds with physical activity. One of Jeevar's main goals for this season is to make a playoff run and enjoy the experience.
While there are many students like Jeevar and Driesenga who have been playing for several years, intramural volleyball also accommodates those who are looking to begin their athletic journey.
"I just started playing this semester, but a lot of my teammates have been playing for a while now," Hannah Hernley, a senior at NMU, said. "It's nice to be able to play a sport that I played in high school, but without all of the time commitment and stress." 
Many of the students who start playing intramural volleyball come back to play the next semester. A majority of participants had formerly played in high school and wanted a way to continue the sport but also have fun with their friends. 
"I used to just come to watch," Hernley said. "I started to want to play then because all my friends just looked like they were having fun, and the overall atmosphere of the gym was great."
Near the end of the volleyball season, there is a small tournament. The teams will participate in bracket play with single-elimination rules, trying to round out their season with a first-place finish. 
"I honestly love the little tournament at the end. It's a fun way to add a little bit of competition," student Joey Bougado said. "My team has never won but we have come close placing in second a couple of times, but hopefully this year is it."
Similar to Bougado, health and PE secondary education major Daniel Sickles would love to secure the championship with his team, in which he is the captain.
"We'd love to take the championship," Sickles said. "We've had some tough losses so far this season, but hopefully we'll get seeded well and keep moving forward."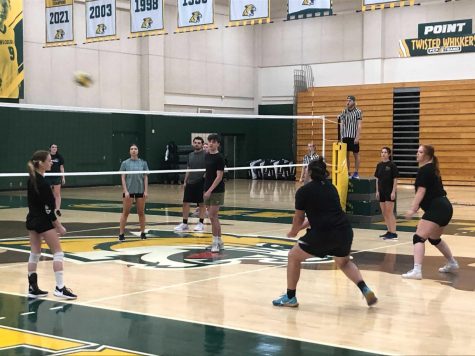 Sickles' only thought of improving intramural volleyball would just be to play more games.
"Maybe two games a night, honestly," Sickles said. "It's sometimes done in like fifteen to twenty minutes. So, two games a night would be a little better."
Players are not the only ones welcome in the gym for volleyball, fans are encouraged to attend also. The good atmosphere and competition bring in audience members who love to come and watch the teams play. 
"A lot of our friends come to watch," says Bougado. "It's nice to be able to have a small, fun little support system each game." 
Students who are interested in signing up for intramural volleyball or any other sport can visit the intramural sports page on NMU's website to sign up for a team.