ASU, BSU members sponsor remembrance, community space
Inspires conversation of how NMU can support students of color
The Asian Student Union (ASU) and the Black Student Union (BSU) co-hosted a community space during the month of February for the campus and Marquette community to mourn the victims of two mass shootings in Asian Pacific communities in Monterey Park and Half Moon Bay, California, and the death of Tyre Nichols, a Black man who died following a violent interaction with Memphis Police.  
The community space was set up in the southeast end of Jamrich Hall across from room 1100, beginning at 10 a.m. on Wednesday, Feb. 1 and was kept on display through March 3. 
"I wanted to create a space here in the community that I study and I go to school, so that people can know more about this and everyone has to be involved in this," Viactric Thu, ASU co-president said.
Students were able to write messages on the back of paper candles, provided by the Student Equity and Engagement Center (SEEC), and leave them at the remembrance display. 
"Personally for me, this gave me an outlet to be able to express my feelings without it being a super public thing," MarLanaysia Rosser, BSU president said. "I could write my thoughts out and just leave it there and have that take away some of the pain or hurt."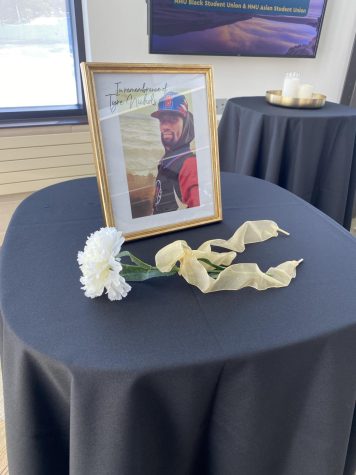 Being a student of color at a predominantly white institution, Rosser wonders to what extent people care.
"Do they care about us? Do they want to put in effort to show that they care? Do they want to show that we are worthy of being here and our lives do matter?" Rosser said.
For students, the administrators willingness to support the collaboration for this space helped them feel this support from NMU.
"Creating the space with a lot of the higher ups and being able to see them come together and fight for that space was important, and it was essential," Rosser said.
In addition to being recognized by administrators, students felt they were supported by the greater campus community as well.
"It's helping me feel like I've been recognized and people who look like me who are victimized by society," Rev Baluyut, ASU co-president, said. "Putting up a space like this helps other students realize that, although we're safe here in Marquette, it's still happening all around us."
When violent events like these occur, a lot of emotions come up for people with identities similar to victims of these tragedies. 
"A lot of times I just feel sick to my stomach," Rosser said. "I have to wake up and take on so much, because it's not one person every other year, it's every other month that we have to continuously go through this and it's heartbreaking. It's sad."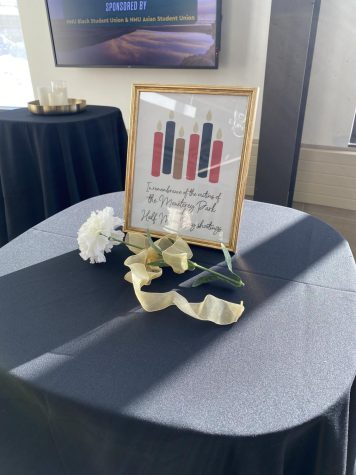 One of these emotions that comes up for those affected is worry. 
"Hearing about these events every time it happens, it just strikes me because what if I'm one of them or what if one of my family members are there," Thu said.
For others, the overwhelming feeling is defeat.
"It feels like there's nothing in my power that I can do to try to help. As much as you want to help, it seems like there's really nothing you can do that's direct and effective," Baluyut said.
In addition to serving as BSU's president, Rosser works as a Programming Assistant at the SEEC which is an office primarily made of trained undergraduate students. 
She suggests something NMU administration can do to support students of color and other marginalized students is hiring more professional staff at the SEEC and moving their office to a better location.
"There's only so much work that one person can do. As students, we can't do that much and so one person taking on 300 roles is impossible," Rosser said. "Moving us into a location will make students feel comfortable being there and seen."
On campus, Rosser said she feels the community is going in the right direction in terms of change, but the country is another story.
"As a country, I don't even know. Things obviously need to change and they are not changing nearly as fast as they need to be," Rosser said.
A lot of times these discussions end in inaction until the next tragedy occurs, says Baluyut.
"They don't really offer action. They don't offer solutions. They just say that we'll do something about it. But, there's no forgetting. There's no closure because there are no policy changes that will change why these things happen," Baluyut said.
This change across the country comes from individuals, says Awa Christine Ndiaye, BSU communications chair. 
"It starts with people admitting that these issues are happening and getting out of their little bubble," Ndiaye said.
This starts by addressing the structural problem at hand. 
"People need to admit that this is happening, this is a problem. But someway, somehow certain people still don't see it," Ndiaye said. "But why? Because they choose not to. It's about time America chooses to see."