GTU celebrates ninth annual Anderton's Earth Week with Earth Fest
Gamma Theta Upsilon (GTU) organized the ninth annual Anderton's Earth Week and celebrated the week with Earth Fest on Wednesday, April 20, which served as a showcase of all the environmentally minded student organizations at NMU.
Anderton's Earth Week honors John B. Anderton, who served as NMU's Department of Earth, Environmental and Geographical Studies department head, and who passed away in 2014. 
Mary Kelly, president of GTU, was the main organizer of the Earth Fest, spending the weeks leading up to Earth Week getting other student organizations on board.
"It's been a huge learning process. I've never done something like this," Kelly said. "Everyone's been really supportive, and it's really been a great environment to learn new stuff."
Kelly's favorite part of putting on Earth Week was getting to collaborate with other environmentally active student groups on campus, leading to the success of Earth Week at NMU.
"[We are] fostering more of a sense of community with common goals of connection and sustainability overall, we've had a good number of student orgs join in to help plan events," Kelly said.
One of the groups with a table at Earth Fest was the Apiculture Club, which provides education and experience with beekeeping.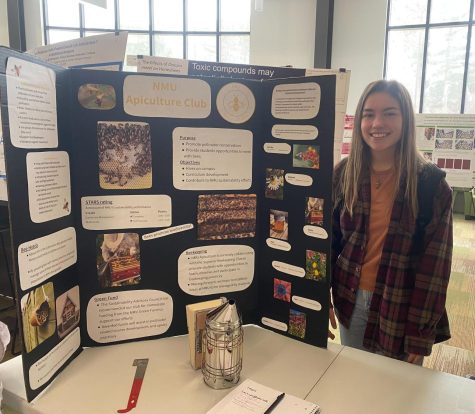 "So far people have been very interested in our club and have been asking a lot of questions which I love," said Gracie Anzaldua, vice president of the Apiculture Club. "I love to see people interested in bees and other environmental projects." 
The collaborators of the fair hope attendants were able to become more environmentally minded. 
"I hope people today learn about new things that they haven't seen before and get more involved with environmental projects and advocacy," Anzaldua said.
The Cycling Club and EcoReps were other groups in attendance at the fest. Together, they co-hosted Tune-Up Tuesday for students and community members to tune up their bikes on April 19.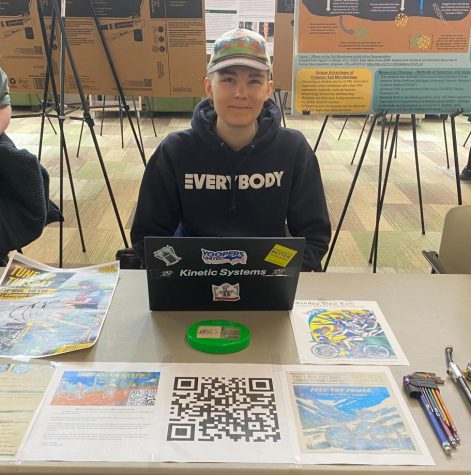 "It's a great way to form a community. If we can get engagement in events like this, then we create a community on campus," said Joshua Lewandowski, a member of the Cycling Club.    
In addition to co-hosting Tune-Up Tuesday, EcoReps also held pin-making tables in Jamrich for students to make environmental and social activism pins on Monday, April 18, Tuesday, April 19 and at Earth Fest on Wednesday.  
"We've gotten a lot of interaction with people that have just stopped by because they love the pin makings," said Grace Listopad, a member of EcoReps. "It was great to see everybody interested."
The pins featured social justice related slogans like "Your Voice Matters," "Planet Over Profit" and "Social Justice is Environmental Justice," among several others.
"Specifically, these pins are about social justice in addition to environmental justice and the ways that they're linked," said Cece Hogan, a member of EcoReps. "It's important that they are linked and that's part of our mission as a club, tying that social aspect into the environmental part of sustainability."
The social justice pins have helped in engagement and awareness for EcoReps.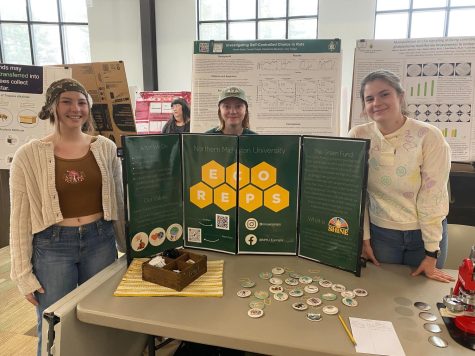 "When they are customizing their own pins, they can come up here and make a design about a social justice issue that they care about," said Grace Freed, a member of EcoReps. "It highlights how it's all linked."
The pin making has now become a staple for the student group. The club hopes to do more with pin making in the future.
"We are going to be doing even more events next year and just ramping it up even more and we're going to be using these pin machines a lot," Listopad said. "If people want to make more pins we'll be here."
DivestNMU, with the help of other environmental student groups, held a protest on Thursday, April 20, demanding NMU pull investments out of fossil fuels. 
Another group involved in Earth Week and Earth Fest was the Conservation Crew, which hosted a community cleanup on Saturday, April 22.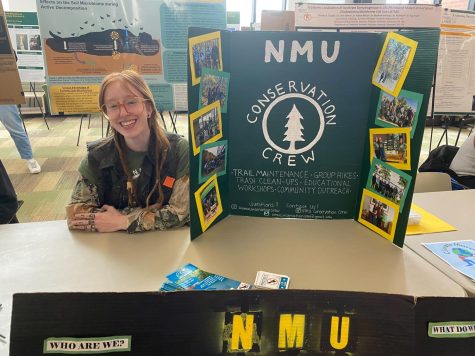 "There's trash everywhere. It's atrocious. It's insane to see it build up and that all just goes right into the lake," said Ceirighen Gill, a member of Conservation Crew. "It's important for us all to care about the environment." 
It is important to be involved with environmental activism, said Jonas Trombetta, a member of Hoop House, a student organization that aims to emphasize locally grown produce. 
"Actions have consequences, and it's really important to inform people of that because I feel people don't understand that, it's been somewhat lost," Trombetta said.
Environmental action affects us all, Gill said. 
"Because if we don't care about the environment, we don't care about each other," Gill said.