Brock's backstory: President Tessman's journey through running, teaching and finding balance
Brock Tessman was born on June 4, 1976, in the Henry Ford Hospital in Detroit, exactly one month before the United States' bicentennial and his planned due date. Despite his early birth and subsequent time in the hospital as an infant, Tessman was an active kid who enjoyed running around in the woods and neighborhoods of Plymouth, Michigan, with his older sister, Brooke.
He channeled his energy into sports as he got older, especially baseball and basketball.
"I was into sports as a kid for sure. I mean, big time," Tessman said. "If you'd asked me at various times, I would want to be a pro baseball player for the Tigers or something like that."
Even with his love for sports, Tessman found an interest in strategy and international politics as a kid and ambitiously wrote "foreign policy advisor or university president" in a middle school essay about his career dreams. However, in his later years of high school and undergrad, Tessman did not identify as an academic.
"I had a lot of ups and downs academically. I was not always a strong student," Tessman said. "And it's not like I wasn't a strong student and then I became one and stayed that way. I really had ebbs and flows over the years and I was really much more interested in, at first, baseball and basketball, and then ultimately running."
He started running in high school once his family moved out to California to follow his mom's career as an oncologist. Tessman found he connected more with his cross-country teammates than those on the baseball and basketball teams and started to find more success in his running goals.
"At that time, I was a long haired, purple, blue, red hair, hacky sack, skateboard kind of kid and cross country, for whatever reason in our high school, was that group," Tessman said. "I think that was a big part of why I was running too, is just feeling like [I belonged] with those folks."
After starting as a sprinter and gradually moving into more mid-distance endurance running, Tessman found his running accomplishments opened up scholarship opportunities. He accepted a scholarship from Brown University in Rhode Island and was grateful to find another great group of running buddies on his team at Brown.
"I also had to grow up quite a bit because I realized how far behind I was in terms of my academic development and also my maturity," Tessman said. "I was just a kid who had a lot of things going for him and I hadn't really been pressed or put up against some of the challenges that I saw at Brown, intellectually and academically and then also just socially, starting to navigate a new space … there was a big growing up experience."
He started out as a Russian literature major and tried out majors in Russian language, Russian history and general history before graduating with an international relations degree in 1998.
"My brain didn't fit very well with the mode of analysis, careful thinking and … reflective research methods that were really dominant in the humanities like literature and history," Tessman said. "When I took my first international relations class, it was about theories and data analysis and running quasi experiments that seemed to mesh with the way my brain works a little bit more and so I got excited about that field."
He continued to explore his interest in Russia through his undergraduate thesis concerning economic development in the Russian Far East.
Despite a few lingering foot injuries during his undergraduate running career, Tessman still had some athletic eligibility after graduating and decided to pursue running alongside a master's degree at the University of Colorado.
"I went to Colorado that fall and I ran cross country that fall and ran track in the spring, and then I took a year off from school," Tessman said. "I was definitely really oriented around my running. At that point in time, running was it. I mean, I ran three times a day and it was everything. I left school, never thinking that I would go back."
Tessman dropped out of his political science masters program in 1999 to pursue a professional running career. He decided to return to his running coach at Brown and spent the rest of that year training for the 2000 Olympics.
"I had this notion that I could qualify for the Olympic trials and make the Olympic team," Tessman said. "Lo and behold, I didn't achieve what I wanted to, so I decided to go back to school and finish my master's degree."
After that year off, he was accepted back into his master's program in Colorado and decided to stay and pursue a Ph.D. in international relations.
"My advisor said 'I think you have some potential. I'm willing to be your mentor, but you have to be dialed in now as a student the same way that I've seen you be dialed in as a runner.' And so I said 'okay,' and I did," Tessman said. "I kept running competitively for a little while after that, but from that point on, my focus was on studies."
His main area of interest was Prospect Theory, which explores the risk-taking behaviors and conditions surrounding leaders who make excessively risky decisions and those who are excessively risk averse.
As a master's and Ph.D. student, Tessman taught classes in international affairs and continued teaching post-graduation in 2004. In 2006, he was offered a tenure position at the University of Georgia and moved to Athens, Georgia, to pursue his professional career.
"I love teaching. I still remember crying a bit when I left the University of [Colorado] Denver because I just loved working with the students there so much," Tessman said. "But in the academic world … if you get these little windows that open up and you're like, 'oh my gosh, this new track or this new set of opportunities is available,' then you got to think hard about taking that opportunity. And so I did, and I'm glad I did."
Tessman was in Georgia for almost 10 years, during which he received tenure as a professor, worked within the Honors Program and eventually met his wife, Kristen. They met in a coffee shop in Georgia and had what Tessman called "love at first sight." She was a law student at the time and they dated for two years before getting married in 2009.
Tessman's father, who was an architect, had a dream of designing a house for the Tessmans and he drew up plans for a house for them after they got married. Tessman's father got sick and passed away before they could build the house, but they decided to move forward with the design he had created for them.
The construction of their house took a few years and they moved in on Jan. 31, 2015. A few weeks later on Feb. 17, the Tessman family threw a dinner party for their friends and family.
"We had just thrown this great dinner party, [Kristen] had cooked this … beautiful meal, and we were done, getting ready to go to bed and I sat down, and I was like, 'there's this job opportunity out in Montana that sounds really good," Tessman said. "She was like, 'Oh my gosh, but I'm not too worried because I don't think you're gonna get that job.'"
The job Tessman was looking at was in Montana and was an administrative role as the dean of an honors college. Despite his wife's belief that he would not be hired, Tessman got the job and in June of 2015, they packed up all of their recently moved belongings and relocated again from Georgia to Montana. Their oldest daughter, Frances, had just been born in April.
"It was a hectic time," Tessman said. "But that's kind of how we roll. We're very flexible and adaptable."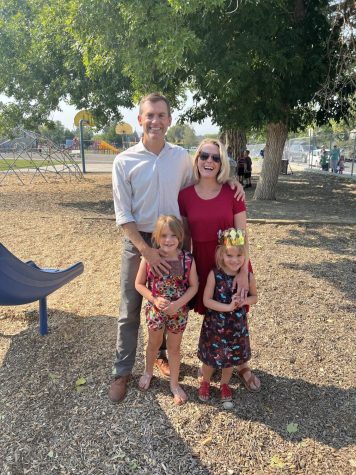 During his 8 years at the University of Montana, Tessman expanded his experience of administrative work through his roles of dean for the honors college and provost for the Montana University System.
His two daughters, Frances (8) and Leona (5), both spent their early years making friends and connections in Montana, so the Tessmans' main priority when moving to Marquette was to make sure their girls had a smooth transition to their new school and home.
"Our biggest concern when making the move wasn't professional for my wife who's really an accomplished finance operations leader for this nonprofit, or for me, it wasn't that. It was the girls," Tessman said. "We wanted to move out a little early, give them some time to adjust. The girls are everything."
Tessman officially started his role as NMU's 17th president on Feb. 1, but the family moved out in January so Frances and Leona could start at their new school at the start of the second semester. Despite the long hours his role as president requires, Tessman embraces the relative flexibility he has within his schedule to spend as much time with his family as possible.
"Being able to pop home and have dinner with them and come back for an event, or the chance to bring them to a hockey game …. It's just the best," Tessman said.
Finding this balance between his work and family is something that Tessman is striving to work towards, especially as someone who is ambitious and professionally accomplished.
"The biggest challenge … is trying to strike a balance between this very anchored, intimate home life that, at least for me, feels right," Tessman said. "And then also pursue new opportunities and be open to change."
Tessman has been aware of the need for this balance for most of his life. His mother was a prime role model for him growing up as she chased her dreams as an oncologist around the world and still showed up for her family however she could.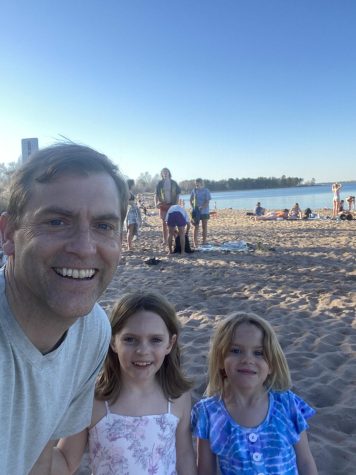 "She went all over the country and ultimately all over the world … and she did a wonderful job of maintaining that presence and connectedness, even when she was pretty far away," Tessman said. "I remember as a kid in Plymouth, Michigan, getting cassette tapes from my mom who was out in California. That's how she would check in with us and she'd send them all the time … I can visualize it right now, sitting around the dinner table with my dad and my sister listening to those tapes."
He has been emulating his mother's philosophy over the years as he shows up for both his family and his professional commitments. Especially in this new role as university president, Tessman is finding that balance and trusting in his personal philosophies that have guided him throughout his life thus far.
"This job is kind of a busy, stressful job and there are times when there is not as much time with family as I would like, but the key is to make the most of those moments," Tessman said. "My mom, I remember growing up, would always talk about quality over quantity. As a dad now, that really rings true."