Opinion—Dogs should always be on a leash in public, and kept away from me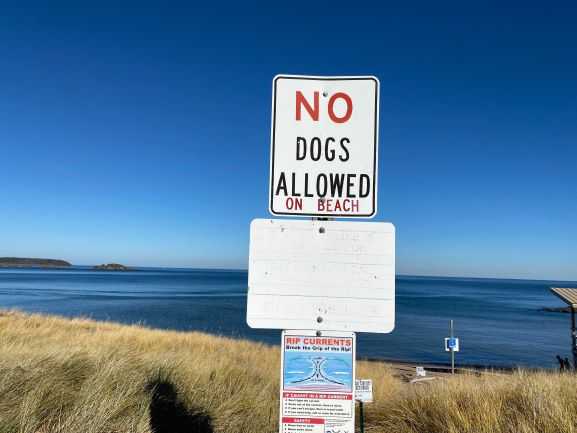 Most people are pretty good about keeping their large and furry four-legged friends on leashes in the Marquette area. Unfortunately, even though there is a law to enforce leashing dogs and keeping pets safe, people (especially in more wooded areas) still let their troublesome hounds run amok.
The fundamental issue is not about how well-behaved you claim your dog is, or what a sweet boy/girl it is. The issue concerns a fact some people ignore, and it's simple, really. Dogs are simple-minded animals and they cannot be trusted to always choose right from wrong, especially in new social situations where they may encounter other dogs.
Dogs, being predatory in their natural instinct, may feel the need to act aggressively or even attack other dogs if they perceive them as a threat. Why do they do this? Well, it's just one example of dogs being dogs. They are not humans, they don't think like us. They are fight or flight driven creatures, and that shows itself more than dog lovers might like to admit.
There is a real-life example of this happening in the high-density city Chicago. Shamontiel L. Vaugh shared her experience on medium.com about a dog encounter that could have become dangerous.
"I saw him from across the street. His senior dog was cruising alongside him, and the dog I was walking stiffened on the other side of my running leash," explained Vaugh.
"The dog owner saw a friend on the other side of the street and circled across the street a second time, senior dog cruising slowly behind. I walked across the street a second time, glancing down to see the alert ears of my observant four-legged friend. I could see her muscles flexing as she walked," Vaugh continued. "Finally, I yelled out, 'Will you please put your dog on a leash? I've crossed the street twice already. My dog is a bit of a jumper.'"
After explaining to the other dog owner what the problem was, he didn't seem to care. He responded to her, "Well, how do you know this dog wouldn't jump on her?"
Vaugh responded with, "I don't care who can jump. My point is to help them avoid contact."
This is the biggest point everyone needs to understand about dogs in public. It's a big free-for-all in their head, and they speak nearly entirely through body language and untranslatable barks.
Vaugh explained a crucial point to this stance though, that dogs don't need to come into contact with everyone, especially not other dogs. One small pounce by one dog, in the face of another one who's predisposed to aggression and you'll have a bloody mess. I've seen it myself, which is why it irks me so much.
In Marquette, I have been confronted by aggressive dogs several times. My first annoying experience was actually with a leashed dog on the bike trail. It was winter time and I was going for a run. As I made my way down the Lakeshore Blvd. bike trail,closing the final stretch of my workout, a woman came the opposite way with a couple big dogs on leashes. As I ran past her, one of the dogs jumped up at me and bit into my hand.
Good thing I was wearing a thick glove on that chilly day, otherwise it would likely have drawn some blood.
Why did this happen? Even though this woman had her dogs on a leash, she foolishly let one dog attack me. She probably thought he was such a good boy, and trusted him to approach me (who knows why, because I certainly did not ask her to let her dog come at me).
Anyways, the progression got worse. At a later time, I was on a hike with some friends and we brought their dogs. Perfectly fine dogs, I might add. They are strong, but they are also trained well and controlled on a leash. Long story short, we made it nearly to the stairs of Sugarloaf Mountain. A large white husky came barreling down the stairs with no owner, and another aggressive dog trailing fast behind. Of course, at this point, I know there are two scared dogs on leashes being held by my friend.
So, I try to scare off the dogs and yell for an owner. Nothing. Just a standoffish dog stronger than me staring down my friends' harmless dogs who are just trying to go on a peaceful leashed walk. The white husky sprinted past me, and there was no way I could stop it. It approached my friends' dogs and then they spooked each other. Still with no owner to be found, this random aggressive dog wouldn't leave our dogs alone.
I watched the dogs death-bite each other. I am talking bloody-faced dogs making whines and screams such as I have never heard before in my life. I watched as the dogs had to be torn away from each other, while the owners of the estranged dogs came stammering down the trail, ignorant about the fight club scenario they had caused. The other one had run off, and we were holding our dogs in our arms shaken like a martini on a Friday night. This would not have happened, if the foolish owners had simply leashed their aggressive mutt.
Luckily, dogs have owners (a.k.a us) to keep them safe. All it takes is a leash, and you could keep your dog out of harm's way. There are certainly places to let your dog off their leash, but those places would probably be designated with signs somewhere. Or, get your dog a nice big private property where they can roam for acres with you instead. But as for public places, where there is even the slightest chance they may encounter another dog, leash them up, and don't assume everyone wants your dog in their face.
Editor's Note: The North Wind is committed to offering a free and open public forum of ideas, publishing a wide range of viewpoints to accurately represent the NMU student body. This is a staff column, written by an employee of the North Wind. As such, it expresses the personal opinions of the individual writer, and does not necessarily reflect the position of the North Wind Editorial Board.