Open Mouth Open Mic night to be held at Ore Dock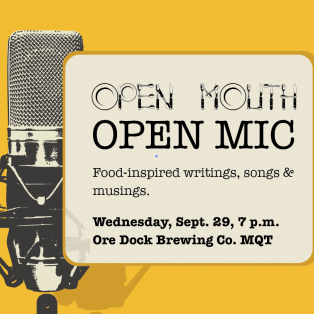 Writers and musicians looking for opportunities to share their work in a social environment might be interested in an upcoming event at the Ore Dock Brewing Company.
On Wednesday Sept. 29 from 7 to 9 p.m. creatives will take the stage and read or sing to their hearts' content. The event, Open Mouth Open Mic, encourages community members to share any musings so long as they are inspired by food.
This event is part of the Two Books, Two Communities program put together by the NMU English department to connect college and city community members via common reading materials. Both of this year's book selections are food-related: Fried Walleye and Cherry Pie edited by Peggy Wolff and Teacher/Pizza Guy by Jeff Kass.
Those interested in attending Open Mouth Open Mic can find information on NMU's event calendar as well as the Facebook event page. The faculty contact for this event is Director of Publications Rebecca Tavernini.