Northern Now to host rural health panel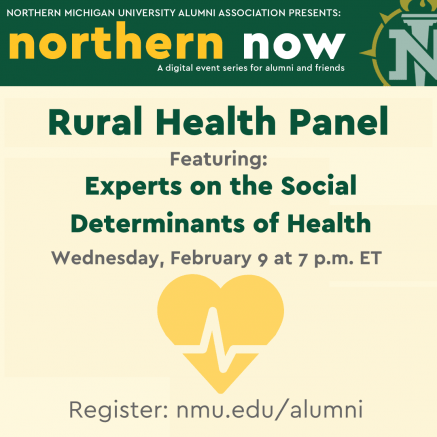 The NMU Center for Rural Health will partner with Northern Now to host a panel discussion on rural health determinants on Wednesday, Feb. 9 from 7 to 8 p.m. The panel will take place virtually in order to draw in as many NMU alumni viewers as possible.
Experts on social determinants of rural health will speak about "the Community Health Worker profession, what impact they have on the health and well-being of individuals, and particularly how Community Health Workers are addressing food insecurity in our area, one of the social determinants of health" according to the NMU event calendar.
Director of the NMU Center for Rural Health Elise Bur will moderate the panel discussion, focusing on issues in the U.P. that impact many of our community members.
Expert panelists speaking at the event include principal of Everyday Life Consulting Shannon Lijewski, local Community Health Worker with UPHS/AdvantagePoint Health Alliance Alazar Chroman and Marquette Food Co-op outreach director Sarah Monte.
Attendance is free. Prospective attendees must register beforehand. 
Northern Now holds monthly digital events aimed at NMU alumni and showcasing campus happenings as part of NMU's Alumni Relations.