Kombucha? You Betcha
A Marquette woman's local donation-based kombucha stand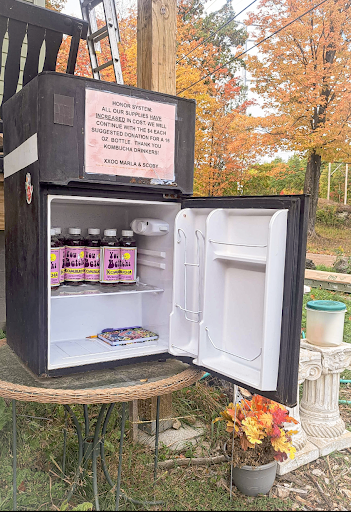 A little black fridge sits on the side of County Road 550 — to the unassuming passerby, its presence would hardly be noticed. Inside, bottles of home brewed kombucha sit neatly lined up, a product of collaboration between the Marquette community and one Yooper woman. 
Marla Vancheck, a Marquette local, is the woman behind this roadside stand, You Betcha Kombucha, who harnesses natural ingredients for holistic medicinal remedies. 
As a young child she was already selective about her food sources, cutting out preservatives and artificial colors.  
"I always felt like the natural thing was the way to go," Vancheck said. 
She studied as a health practitioner in her early years, and received a variety of certifications in wellness. Her interest in the local flora and fauna is what carried her to where she is today.  
Vancheck started making kombucha in 2007 when she lived near Huntsville, Alabama. She was new to the craft, and learned some things the hard way. 
"Of course, it's much hotter [in Alabama] than it is here in Marquette," Vancheck said. "I thought I would make kombucha in wine bottles with corks, and when I went to check on them the next day, the corks had popped and there was kombucha everywhere." 
For a few years, Vancheck practiced her hobby for the sheer enjoyment of it. When she moved back to Marquette in 2010, she continued to craft batches of kombucha. 
"I wanted to get it out there, but I didn't know how," Vancheck said. "I didn't want to make it a business, I just enjoy making and sharing it." 
At-home kitchens are very difficult to get licenses for, and renting one is quite pricey. Vancheck chose to navigate this by leaving the kombucha out for donations only. 
She recommends a gift of four dollars per 16-oz. bottle. All of the proceeds go back into the ingredients and back into the community. 
Since she is a roadside vendor, it is not possible to be outside by the fridge all of the time. Everything is sold by the honor system — people place donations in a box by the fridge. 
"Generally, people have just been awesome," Vancheck said. "People have gone above and beyond to donate." 
The donations go strictly back into the kombucha, covering the costs of the ingredients and printing costs for her labels. She designed the labels herself, with a smiling yellow figure as the focal point. 
"That's Scobie, he's my buddy," Vancheck said. 
She also accepts and reuses the glass bottles. Glass is a fairly expensive medium and takes a long time to decompose. By recycling it, people cut costs for themselves, for Vancheck and for the earth. 
She explained she has a handful of regulars, a lot of which are students from NMU. Adrienne Hubeny is a senior at Northern who speaks highly of Vancheck's You Betcha Kombucha. 
"I have always passed the 'kombucha' sign on my way to go hiking and one day I decided to pull in. The rest was history," Hubeny said. "I have not been a fan of store-bought kombucha as I find it too acidic, however her kombucha is sweeter and milder." 
Vancheck has experimented with many different flavors of kombucha, but when the pandemic hit she stuck with tart cherry due to its numerous health benefits. 
Tart cherries are rich in magnesium, calcium, zinc, phosphorus, iron and potassium. That is not to mention the multitude of benefits from the kombucha culture, black tea and green tea, according to Vancheck.
"Some people claim my kombucha helps them lose weight," Vancheck said. "Another customer swore up and down that it helped his gout." 
Each bottle of her You Betcha Kombucha contains a two-day supply of medicinal tart cherry. It takes 25 pounds of cherries to produce 32 oz. of cherry concentrate, another reason she chooses not to mass produce. 
Whenever the fridge is empty, she simply whips up a new batch. The kombucha will not be sold during the winter as it would freeze outside, but she is willing to make arrangements during the off season. She will also be keeping her chaga tea out through the winter. 
One of her favorite things to do is chat with the people who stop by her fridge. She has met many travelers, locals and brewers alike. 
They sit and compare notes over a glass of kombucha. In the future, Vancheck plans on building a gazebo outside, as a better place to share libations and stories. 
"People are honest and good in the Upper Peninsula," Vancheck said. "We still have dignity and ethics, which allows me to use the honor system when selling my products."
When not in the woods or brewing kombucha, Vancheck volunteers with Big Brothers and Big Sisters of America. She lives at home with her 97-year-old mother, her husband and her two dogs. 
You Betcha Kombucha is one woman's passion for natural wellness transformed into a self-sufficient hobby. Stop by the little black fridge the next time you head down 550 for an adventure.