Profile — Living with Chronic Regional Pain Syndrome
Student Kylie Saunders talks about her experiences with CRPS, being disabled from a young age
When Kylie Saunders was 14 years old, her life growing up in Chicago revolved around sports: soccer, volleyball, track and field and basketball.
"I was hoping at the time to eventually get a soccer scholarship, that was fully my plan," Saunders said. "I was on a travel league for soccer and everything, that was my main thing."
Saunders, now in her final semester of her social work degree at NMU, joined her eighth grade basketball team after being asked to join by a teacher. She made the  A-team by the second week, but got injured halfway through the season when she jumped to get the ball and twisted her ankle after another player landed on it.
That night her ankle was purple and swollen so she went to the emergency room to see if anything was broken. 
"They said it was just a sprain, get off it for a couple of weeks and then I'll be fine. So that's what I believed and that's what I did," Saunders said. "Then I kept trying to push myself and play more sports, because that's what I love to do."
But the pain never got better and Saunders mental health started to decline alongside her physical health.
"I was trying so hard because I was aware I was on a travel league, which was a big deal for soccer, and I realized how much money we were paying to be on the travel league which is also a huge stressor," Saunders said. "I had all of the stress on top of this injury and your body and your mind go very close together; if one is sinking, then the other one is too."
After the first doctor claimed the foot injury to just be a sprain, Saunders sought a second opinion but received the same diagnosis. However, she refused to believe her intense pain would heal on its own when it still persisted after nearly a year of physical therapy and other sustained injuries in her left knee and hip. 
When she was 15 years old, she met with a third doctor who finally noticed a bone on the inside of her foot had been completely dislodged and a ligament on the outside of her foot had been stretched to the point of hypermobility. After looking at her x-rays, he told her she needed surgery immediately and Saunders received her first surgery two days later. 
Twelve weeks of physical therapy later, Saunders was cleared for her annual theater summer camp. However, despite the surgery going well and a strict recovery process, Saunders did not feel a decrease in her pain levels and started being affected by new symptoms. 
"I wasn't sleeping. I wasn't eating. My foot feels like it's on fire. I'm begging anybody to listen to me at this point, because they were like, 'well, we already fixed it, so here's more medicine,'" Saunders said. "I'm like, 'that's not what I'm asking. I don't want that. I want to be fixed so I can go do sports again.' And then it was another year after that before I even got my CRPS diagnosis."
CRPS, which stands for Chronic Regional Pain Syndrome, "is characterized by continuous pain, disproportional to the initial trauma. It usually spreads to the distal part of the affected limb," according to a scientific review conducted at Erasmus University Medical Center in The Netherlands. Those affected by CRPS experience an extreme sensitivity to touch and have near constant pain. On the McGill Pain Scale, a questionnaire that is used to classify pain on a scale of zero, no pain, to 50, the maximum amount of pain a human can experience. CRPS clocks in at a 42, above childbirth and finger amputation. 
Without this diagnosis, her first few years of high school were a constant struggle for Saunders.
"It was a constant battle of having to defend myself because, for a while, the doctors that didn't believe me … they were just telling my parents 'I just don't think she wants to play sports anymore' as I was crying in the corner, because I can't play sports anymore," Saunders said. "They would be like 'we don't see anything wrong. I think she's just making it up.' So then at that point, my parents were just like, 'oh, okay, this is just a Kylie thing.'"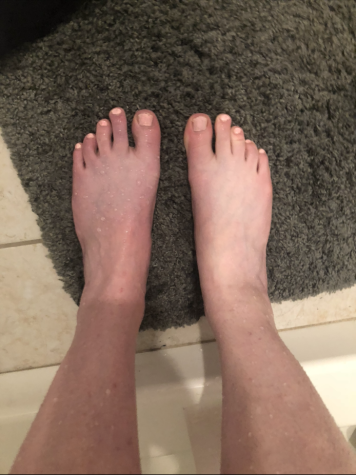 Even getting up in the mornings to get ready for school was a struggle. One of the symptoms of CRPS is an extreme sensitivity to touch, which made things such as showering or getting dressed difficult, especially on days where the pain and sensitivity was more acute. 
No longer able to do the things she loves and feeling isolated in her intense pain, Saunders' mental health started to dramatically decline.
"I stopped doing sports completely and I'm basically bedridden. I'm put on all these medications, so my weight is fluctuating like crazy. I was this super athletic person and then suddenly I was a little overweight," Saunders said. "My body was going down and my mind was going down with it."
She spent most of her days in her room watching "Parks and Recreation," unable to attend school most days due to debilitating pain. While she had her dog, Daisy, making and maintaining human friendships was difficult since leaving the house was not always a possibility for her.
"I was so incredibly pissed. Why was everybody else in high school getting to have all these fun experiences … and I couldn't even go to a football game for more than the first half because I was in too much pain from the rattling of the vibrations from the bleachers," Saunders said. "I just had to watch my travel soccer team continue on and win all of these medals, and I should have been right there with them."
Once she received her official CRPS diagnosis at age 16, hope for a full recovery was extinguished, but she received answers that helped provide her more support.
A total of seven doctors crowded into the tiny orthopedic office Saunders arrived at for more answers to her prolonged foot pain. After a series of random tests from the doctors examining the responses in her left leg and foot, she was sent to the Illinois Pain Institute where she was officially diagnosed with CRPS. 
The main signs of CRPS that helped lead to the diagnosis included intense sensitivity to touch, accelerated hair and nail growth on the affected limb, and a cooler temperature on the affected limb compared to the other parts of the body. For Saunders, her left leg was eight degrees colder than her right leg and was a nearly perfect match for the CRPS symptoms checklist.
On top of her CRPS diagnosis, Saunders also has a list of chronic illnesses, including POTS, gastroparesis, depression, anxiety, insomnia, chronic migraines, constant lightheadedness, muscle tremors and spasms as a result of her initial CRPS disability. Since it took two years for her CRPS diagnosis, the condition is irreversible and life long.
To assist with the 24/7 pain from CRPS, Saunders has undergone a total of 14 surgeries in her 23 years of life. The first surgery to realign the dislodged bone in her foot was the only surgery directly done on her left leg. Since CRPS worsens over time and that process can be sped up by injuries to the affected limb, the following surgeries were all along Saunders' spinal cord and back. 
Many of them were nerve block shots to her spinal cord that dampen some of the pain moving from her left foot to her brain. She has also tried three nerve stimulator trials that implemented wires in her back that similarly attempt to lessen the intensity of the pain signals received by the brain.
"I had wires half inside of me, half hanging outside of me because it was just the trial. So I was walking around high school like a machine basically, just with my wires hanging out of me," Saunders said. "Of the three [trials] I did, the last one worked best so I got the permanent one of that."
However, the nerve blocks and stimulators are not permanent solutions for Saunders and still leave her with pain that makes functioning incredibly difficult.
"For an average person's pain scale versus a CRPS one, an average person's 10 is my four," Saunders said. "I say it feels like an elephant has knives with ice picks on the bottom of its foot and is continuously stepping on my foot while it's all on fire."
Despite her excruciating pain, Saunders was able to graduate from her Chicago high school in 2018, a process that was made easier when she was granted accommodations her senior year. 
"I was able to come into class periods later in the day so, at that point, my meds were already kicked in and I wasn't falling asleep in class because of my insomnia," Saunders said. "So it was much more manageable because I was able to have more time to just exist in the morning because mornings are usually my hardest. And at that point, after having all of these surgeries, having the diagnosis by three different people at this point … people believed me."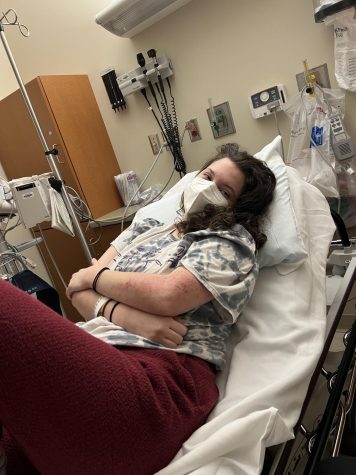 Her AP Psychology teacher encouraged her to go into social work after he noticed the determined way Saunders advocated for individuals and social justice.
"I was always that kid that, if somebody said something that was racist, or sexist, or homophobic, I would turn my head so quick," Saunders said. "He just automatically saw me as an advocate fighter. So he was like, 'Yeah, that's what you're gonna do.' And he's right."
Saunders originally started at NMU as a psychology major but switched to social work once an advisor praised her ability to have open and honest discussions with others. She also acknowledged that she is not interested in getting her doctoral degree and there are more options for careers in social work with a master's degree, compared to psychology. 
"I do, for sure, plan on getting my master's," Saunders said. "I just know that it would be wrong of me to continue on without a full understanding of what it is like … so I'm planning on taking a break after graduation to … do more of the hands-on stuff, go back, do more clinical or macro work and then go into policy."
Originally from the busy and diverse city of Chicago, Saunders' initial adjustment to Marquette was rough.
"I hated [Marquette] my first two weeks because of how different it was. I was like, 'Oh God, I totally messed this up, parents were right,'" Saunders said. "But then I went camping on Top of the World with a couple of my friends and I got to watch the sunrise over Lake Superior with all my homies, and I was like, 'Okay, this is good. I could get used to this.' I learned to enjoy the slower paced, more relaxed lifestyle." 
With her disability, Saunders finds it most manageable to take three classes every semester and the smaller campus size at Northern makes it easier for her to walk back to her dorm to take a nap in the middle of the day, if needed. 
"I purposely chose a smaller school keeping that in mind, because in some schools, getting from one side of campus to the other is a journey," Saunders said. "I knew that that might be great on a day that my pain is lower, but on a day it's not, that won't go well."
The people she has met at NMU are also one of the things Saunders says she is most grateful for. One especially important person in her life is Sarah Triemstra, a second year master's of exercise science student and Saunders' partner of three years. 
"Freshman year, I saw her in the dining hall or in the hallway and I had the biggest crush on her," Saunders said. "She was the first person I ever did this with and I would stop dead in my tracks and just go speechless, or I would be talking with my friends and she would walk by and then I would stop talking because I was so like, 'oh my god, she's so beautiful.'"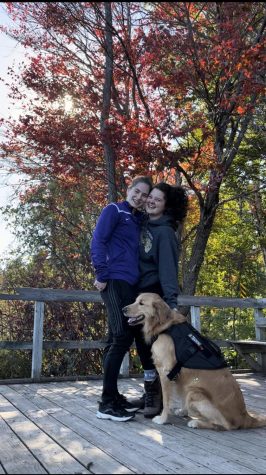 Saunders hid her disability from Triemstra for the first month of their conversations, but eventually stepped on a piece of glass that landed her in the emergency room and she was unable to hide her condition.
"I literally just remember going into full detail telling her my story with CRPS and fully expected her just to walk out and never see her again, because that was what I was very used to," Saunders said. "She just decided, 'okay, sounds good. I'm down for this ride.'" 
Triemstra, who has previously worked as an emergency medical responder, started doing research on CRPS and now is well versed on the symptoms, treatments and other complications that are important to know about the condition. 
"During COVID, when they wouldn't let her into the ER, she would find my room that I was in and just waited in the window and was on the phone with me," Saunders said. "She stood there for six hours."
During her sophomore year of college in 2020, Saunders heard that a central sensitization nerve system IV infusion treatment used to help with CRPS pain had been recently covered by her insurance and immediately signed up to try it.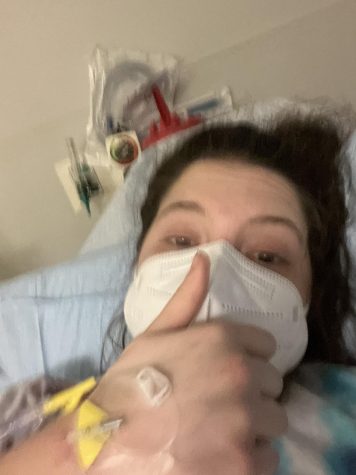 The infusions were located in Chicago so Saunders and Triemstra made the six and a half hour drive every three to four weeks to get them done on a Friday. The drive was always worth it for Saunders, even with the side effects of constant nausea, lightheadedness, brain fog, fatigue, and dramatic weight loss. 
"The side effects are basically like chemo just without the hair loss … I would throw up maybe once or twice after an infusion and honestly, if my pain is at a zero and I just throw up like once or twice, that's worth it to me," Saunders said. "Genuinely, I throw up one to two times a week from my pain alone, so if my pain is gonna be at a zero, I'll go through all of those side effects."
Saunders routinely received these infusions for a year and a half and was finding it easier to sleep, attend classes and have social activities with her pain at such a low level. 
But in April 2022, that all changed. 
"I got the email a week before my next infusion. [Triemstra] was just working on her laptop, I was in the kitchen making myself some food and I was just going on my email, just checking it how you would any other day. And I literally just looked at it and my jaw kind of dropped a little bit and I just put my phone down," Saunders said. "Then I just started crying and handed her the phone because I couldn't even get the words to say."
The email was from Saunders' insurance company informing her that the infusion treatments she was receiving in order to function were being relabeled as "experimental" and would no longer be covered under her insurance. The cost of a single infusion went from $20 to $2,400 in minutes. 
"Getting rid of all of that insurance coverage, is just people out there being like 'sure you have this and I know this helps, but it's not enough and I don't care,' is basically what it feels like," Saunders said. "The rest of the day we just laid in bed … and that day I think will forever be engraved in our brains in a way."
Since the email, Saunders has only been able to have two infusions — one as a birthday present from Triemstra who got another job to help pay for it — and has noticed a steep decline in her condition as a lack of consistent infusions. 
"I was just maintaining this great level of functioning [with the infusions] and with CRPS, it worsens over time and it spreads over time. The infusions prevent that," Saunders said. "Which is why treatments not being available is a little bit more scary because I already had it spread [to my hip] before I was doing these, and now that I'm going so much less, I just worry."
The extra worry and stress takes a toll on her physical state as well.
"If I am stressed, I know I am gonna be in a flare," Saunders said. "I know my leg is gonna be purple. I know I won't be able to wear anything." 
To help with the financial stress of the heightened infusion costs, Triemstra made a GoFundMe page with the goal to raise $10,000, which would cover infusion treatments for the remainder of the semester. 
"For the longest time, I almost didn't even want to do the GoFundMe or anything, because I just felt bad asking people for help … But I also have this life long, so while I have this goal of $10,000 so I can have enough to get me through this semester, after that I can't just keep asking people for more money," Saunders said. "But by the time we started the GoFundMe, our options were to either ask for some help or just keep sinking. That was literally our only option."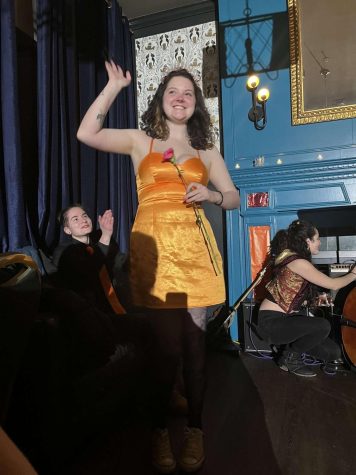 The fundraiser was boosted by one of their friends who knows the CEO of Superior Expressions, a company that is transitioning into a nonprofit organization and was looking for a fundraiser event. 
Superior Expressions organized a drag show fundraiser for Saunders' GoFundMe on Feb. 10 in the Crows Nest Sky Room that featured the McKenzie Arquette Jazz Duo. Fifty percent of the specialty drink menu revenue was donated to the GoFundMe and Saunders and Triemstra were also able to educate others about CRPS. 
"After the drag show, I had three people from my social work department come up to me and be like 'I had no idea,'" Saunders said. "I don't look sick, so it's often hard, but since treatments have stopped, I think it's much more evident that I am sick. I think teachers believe me a little bit more this semester and last semester, due to how visibly sick I look."
One of the stigmas Saunders continually encounters as a young, disabled woman, is the judgment from older generations or those unable to acknowledge her mostly invisible disability. 
"[My CRPS] in my foot so every step I take is one that matters. I don't take extra steps if I don't have to. But the thing is, when I come out of my handicap spot, I swear everyone in the parking lot turns their head so quick," Saunders said. "I know I don't look sick and I'm clearly walking, but that doesn't mean that on some days, I'm not walking. That doesn't mean some days I don't have a mobility aid in my hand."
Saunders hopes to spread more awareness and education about CRPS, especially due to the lack of knowledge surrounding the condition, even in the medical field. 
"When I go to the ER up here, they barely have any idea on what to do with me. But I'll always ask the doctor or nurse that I'm with if they have worked with somebody with CRPS … and they said they literally only know one other person that comes in," Saunders said. "Even if we could get people to understand a little bit more, and have a little bit more empathy about it, then maybe that person's life will be better."