Men's Basketball falls in final homestand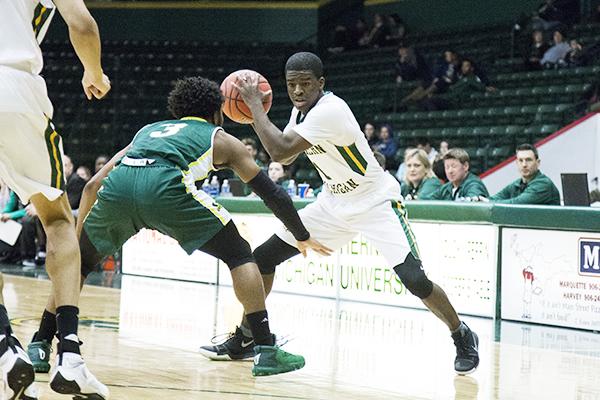 The Men's Basketball team returned to the Berry Events Center for one final homestand, however, the results didn't come out in the Wildcats' favor.
They lost both games, 63-62 to the Saginaw Valley State University Cardinals and 70-64 to the Wayne State University Warriors.
Sophomore guard Naba Echols continued his hot streak, leading the team in scoring in both games. He  said that he could take control when it matters.
"My mindset was simple," Echols said. "Being one of the captains on the team, I needed to make plays when we needed them."
Head coach Bill Sall said that Echols is doing well. "He's starting to develop to a very good player," Sall said. "He's one of the better players in our conference."
In Thursday's game against SVSU, Echols started out with a perfect 3 for 3 from 3 point-range and scoring 19 points, which helped start NMU on a 14-2 run. The Wildcats outshot SVSU for the half, leading the Cardinals 37-28 at halftime.
The Cardinals picked up the intensity in the second half. Saginaw Valley's C.J. Turnage helped lead the Cardinals back to cut the lead to one point by the end of the third.
As both teams exchanged leads through the rest of the game, with the Wildcats leading 60-59 with a minute left, both Turnage and Echols would swap baskets to keep the game close.
Echols made a go-ahead shot with six seconds to go, but guard Sam Taylor fouled trying to recover a loose ball, giving Turnage two free throws for SVSU to steal the win.
Echols finished with a season-high 29 points, and junior guard Jordan Perez finished with 12 points.
In Saturday's game against Wayne State, NMU started out at a 30-19 lead in the first half. However, the Warriors would bring the deficit to six points at the half.
In the second half almost everything went in the Warriors' favor. Marcus Moore salvaged a double-double as part of Wayne State's 10-1 run to start the second half.
Eventually, Echols and sophomore guard Isaiah Johnson would take control as they attempted a comeback from 10 points.
Their comeback would fall short as Moore hit back-to-back baskets and George Spencer hit two free throws to ice the win for Wayne State.
Echols would finish with 21 points, while Johnson had 18 points and six rebounds.
"It was disappointing because we did everything we needed to win the game," Sall said. "From an effort standpoint, it was two good games but two disappointing endings."
Despite a losing homestand Jordan Perez is confident in the team for  next year.
"We're really close—I think we are on the cusp of being a really good team," Perez said. "We got the game plan, but we have to trust ourselves as teammates."
The last of their regular season games will be on the road, Perez also said.
"We just have to be really loose and we have nothing to lose at this point," Perez said. "We have to make shots and have opportunities to beat our top teams in the conference."
NMU finishes the regular season on the road. This weekend, the Wildcats play Ferris State University at 8 p.m. on Thursday and Grand Valley State University at 1 p.m. on Saturday.