Lacrosse returns home to the Superior Dome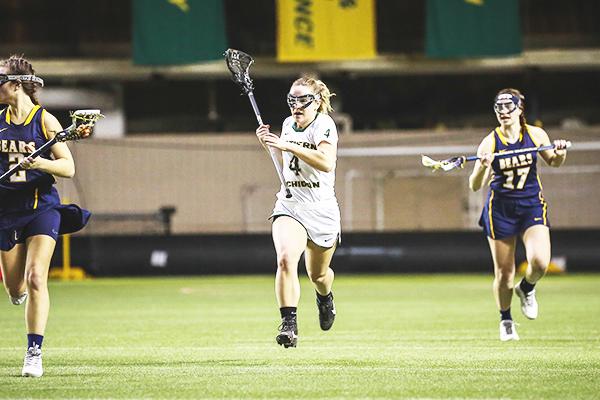 The Northern Michigan Women's Lacrosse team will receive a warm welcome home this weekend when it takes on the University of Indianapolis (8-4) April 23 at the Superior Dome.
The Wildcats are coming off of nine straight games on the road dating back to March 18.
The Wildcats went 1-8 on the trip with the lone victory coming against Wheeling Jesuit University (5-7) at a score of 15-5.
Last weekend the Wildcats fell to GLIAC opponent Grand Valley State (4-8) by a score of 22-2. Freshman Graison Ringlever netted both goals for the Wildcats in the loss. The Lakers scored eight unanswered goals before Ringlever notched her seventeenth goal of the season at 21:38 of the first half. The second goal for Ringlever came at 19:15 of the second half.
"As a team we performed very well offensively and defensively," Ringlever said. "We were a little scattered at the beginning, but Emilia [Ward] called a timeout which really focused all of us and allowed us to set up our offense and defense properly which enabled me to execute my part."
Ringlever is second on the team in scoring with 18 goals and two assists for 20 points on the season, only trailing sophomore Shelby Klotz who has 27 points.
Ringlever commented on her point tally and stepping up into a leadership role.
"I definitely try to keep myself humble about it," Ringlever said. "Everyone works the best they can and everyone brings something different to the field. I know that I can spar for my teammates and support them in that way and do my best every game."
"We were playing a team that's very experienced, they've been around for a while," junior goalkeeper Brianna Bangle said. "We just did what we could."
Bangle is currently the only goalkeeper on the team but said she handles it pretty well.
"You do see a lot of reps as the only goalie," Bangle said. "Emilia keeps it so I don't get overwhelmed."
Ward said the match against Grand Valley State was a learning experience for the team.
"Going into that game we kind of had small program goals," Ward said. "I thought our young girls competed really well against them. We probably had our best offensive performance all season long in terms of end zone time and pressure on their defense, so we made some good strides there going into this home stretch."
This weekend, the Wildcats welcome an Indianapolis team with eight wins on the season and currently sit fourth place in the GLIAC with two conference wins.
Ward noted that both teams share similarities.
"They're an interesting team, this is their second year so they went through the growing pains last year like us," Ward said. "They're a tough test; they play a different defense than we've seen all season, so for us prepping offensively is a little different so it will be a good test to see a different type of opponent."
Ward said returning home will be good for the team playing in front of its fans again.
"I think it will be good for the girls to play in front of their home fans again," Ward said. "We had great support from parents as well as incoming freshmen and other recruits came to a lot of games on the road so it gave us friendly faces."
As for the casual fan who looks at the 2-10 record, Ward said her team still has a lot to offer for those who want to come out and support.
"We didn't schedule to win games this year," Ward said. "We could've easily done that but we are still very competitive with teams out there and we're still a fun team to watch. We'll work hard for 60 minutes and I think fans will still be able to get a lot out of it whether it's a win or a loss."