Cooking with Kata — Mental health crepes
I was planning on hosting a crepe party with my friends this past weekend, but none of them wanted to make the trek through the crazy wind and snow to my apartment. When we decided to postpone the brunch for next week, I considered staying in my pajamas, eating granola and going back to sleep. 
I had woken up with no motivation and a lingering feeling of burnout had been following me throughout the week. The cancellation of the crepes just added to my desire to lay on the floor and do nothing. Instead, since it was that time of the week when I needed to feed my sourdough starter again, I ended up having a solo crepe party. They turned out so well, I will be creating them all again next week. 
Since I had no time constraints, I had fun with multiple variations of the crepes and experimented with different toppings. The most time-intensive crepe was a spiced caramelized apple topping with whipped cream, which was inspired by the apple churro French toast at the Stray Hen Cafe in Ann Arbor, MI. 
I also made many strawberry crepe variations with my mom's homemade strawberry rhubarb jam and fresh strawberry garnishes I created from YouTube tutorials. I highly recommend making a strawberry rose while dancing around the kitchen to upbeat music as a solution to a bad mental health day. 
Ingredients: 
1 cup sourdough starter (or 1 cup flour if making regular)
2 eggs
2 tablespoons melted butter
¼ tsp salt
¼ cup milk (½ cup if making regular) 
(plus ½ cup water if making regular) 
Directions: 
Melt butter and mix in sourdough and eggs until smooth. This will be easier if all the ingredients are at room temperature, but it's not required. Add in salt and milk and mix well until there are no streaks of sourdough (or flour, if you are making a non-sourdough version). The batter should be pretty thin.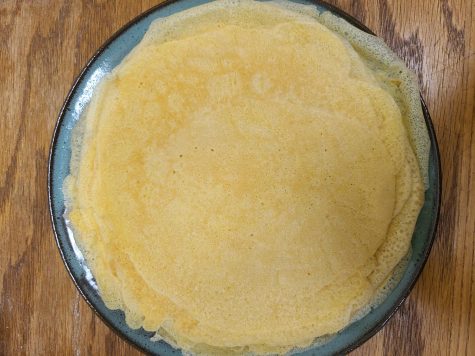 Heat up a skillet with a little butter and pour in a ladle full of batter (approx. ¼ cup) in the center of the pan once it's hot. Immediately tilt the pan around to spread out the batter in a thin circle. After 45 seconds or so, the bottom of the crepe should be lightly brown and ready to flip.
Your first crepe (or the second or third) might not be the most beautiful; honestly, my first few crepes were immediately eaten and didn't make the cut to be a part of my crepe photoshoot. The consistency of the batter, the heat of the pan and crepe-flipping skills can determine the photogenic quality of your crepes. But they will all taste delicious. 
I especially recommend having fun with the toppings. Whipped cream can elevate any crepe from average to bougie and fresh fruit adds color that is missing from the daily grind of college work.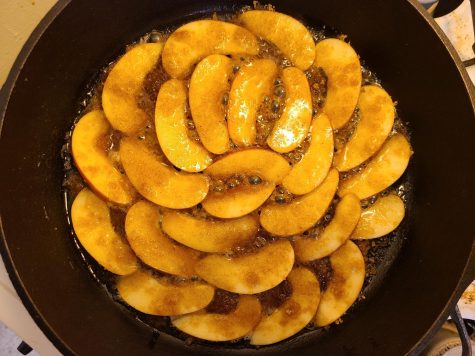 If you want to try the spiced caramelized apples, all you need is an apple, ¾ cup of brown sugar, 2 tbsps. of butter, a pinch of salt and some spices. I used a homemade chai spice mix which includes cinnamon, ginger, nutmeg, cloves and allspice. 
Simply melt the butter in a pan and add in the sliced (or diced) apple. Mix together the brown sugar, salt and spices of choice, and then sprinkle over the apples. Let the mixture cook until the sugar is caramelized, and the apples are softened (roughly eight minutes). Immediately serve with crepes or ice cream.
Don't forget to let yourself have fun and make mistakes. There's no grade attached to your performance; it's just crepes.