A Muslim perspective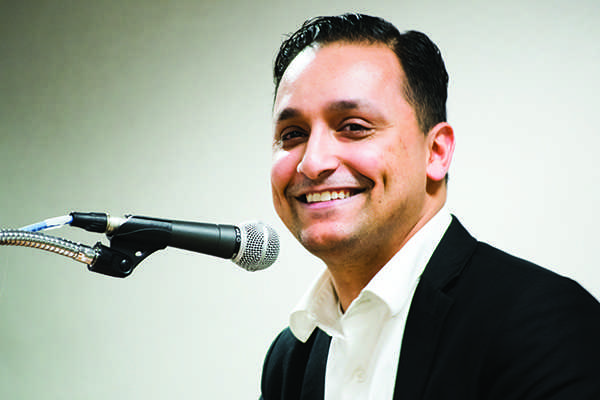 Local TV sports personality Sam Ali swapped his studio and his signature bowtie for a podium and a simple white shirt as he spoke about what it's like being a Muslim in the Upper Peninsula.
The event was held on Tuesday, April 4 in the Cadillac/Brule Rooms of the University Center, which was filled with about a half a dozen students, the others in the crowd of nearly 30 people were members of the Marquette County Democratic Party.
"Being Muslim in the U.P. is awesome," Ali said. "I love living here."
Ali was born in Detroit, which he said surprises people when they ask "So, where are you from?" He moved to Dearborn, Michigan in 2000 which Ali jokingly called "Dearbornistan," because of its predominantly Arab population. According to the 2010 census, about 29,000 Muslims live in Dearborn, 30 percent of the city's overall population and the largest of any city in the United States.
After graduating from Wayne State University in 2011 Ali moved his family to the U.P. in 2013 to start a job. Despite family members and friends warning him of the discrimination he would face so far north, he said he learned the U.P. is different from the rest of the world.
Ali's wife wears the traditional abaya and hijab, an outfit that covers her whole body. Ali said the reaction they get is curiosity not hatred.
"We really just don't get the animosity," he said. "People are curious, I like to satisfy that curiosity." Junior public relations major Doug Lindblom said he attended Tuesday's event because of importance of the topic but also because of his relationship with Ali through playing local high school sports.
"The thing I found most interesting was that he saw it as an education problem, that people aren't educated on what being a Muslim really means."
The Negaunee native was relieved to hear that most people in the U.P. are more curious than discriminatory.
Part of Ali's talk focused on dispelling the rumors around the Islamic religion, one of the largest being that the religion advocates violence. Ali said there is no such thing as radical Islam, because the Quran teaches only peace.
"Once you commit murder you're no longer a Muslim," Ali said.
While Ali grew up immersed in the Muslim culture, his two children are growing up in an area with no mosques and in a bubble from the discrimination Muslims face in the United States, he said.
Though Ali said he doesn't want to expose his children to that discrimination when it isn't necessary, he also doesn't want them to get to a place where the idea of Islamophobia hits them like a brick wall.
Because his children don't get the immersive education he had, Ali said teaching them at home has become easy with the use of YouTube and other apps.
"I can teach them and maybe learn something myself," he said.
Ali said the job of Muslims is to educate people from different cultures to understand that Islam isn't the scary religion that some media outlets have led the country to believe.
"If there was a time for Muslims to speak up and quell the misinformation, now is the time," Ali said.
Ali encourages anyone seeking information to reach out to a local Muslim student association or go to a service at a local mosque.
"The goal is not to convert but to educate."