In early April, senior information assurance/cyber defense major Christopher Abbott competed with more than 85 other students, earning third place, in the qualification round for the Cyber Security Challenge at the recent Association of Information Technology National Collegiate Conference in St. Louis Missouri.
"It was pretty stressful but to see your name in top 3 when you're done—that was pretty exciting," Abbott said.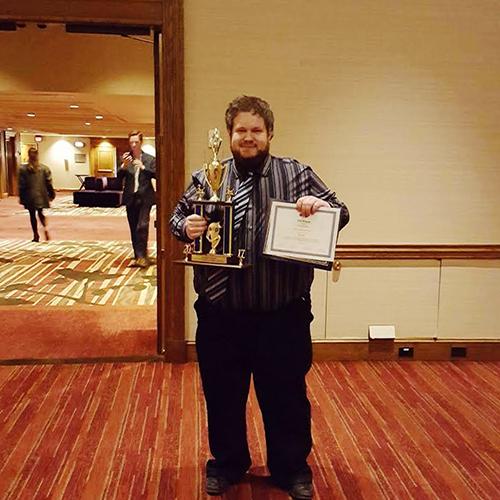 The challenge included a 60-minute written test on computer security, methods, and tools. There was also a final "puzzle" round, which consisted of 90 flags that covered 13 different challenge categories consisting of cryptography, database security, log analysis, network forensics and others.
The top 10 finalists had two hours and 35 minutes to complete as many puzzles as possible.
Story continues below advertisement
At the completion of each puzzle, participants found the flags and submitted them for points.
"I started out just kind of knocking out the easy ones. I got to the top pretty quick and so just going on some of the other guys were knocking out some of the harder ones that are worth more points, then catching up some. I started with my strengths and just kind of kept going."
Abbott attened the conference with three other NMU students and one other participated with him in the contest.  
The competition was hosted by WraySec LLC., a cyber security consulting firm based in Pennsylvania, but over 550 students and faculty from colleges around the nation as well as cybersecurity industry professionals attended the 22-year-old conference. There were also opportunites for students to explore hundreds of open information technology career positions and internships through such a large gathering of IT sponsors and exhibitors.  
Abbott said for national security reasons, it is extremely important that the U.S. has people prepared for cyber attacks.   
"We're so far behind honestly. We kind of started off behind where some of the more organized criminals and national actors are at and it's getting to the point where so much of what we are putting out—we're putting so much of our lives on the internet and we really have to be kind of conscious about the security of it. Every other day you're reading about some company got breached and lost a couple thousand records and it's just a constant stream."
Abbott said he really enjoys the audit aspect of cyber security and that's what he plans to do with his degree after Northern.
"Kind of going through and making sure that companies are doing what they're supposed to be doing and if they're not I'm hoping to get them where they need to be," he added.  
NMU's information assurance and cybersecurity programs in the College of Business are 2 and a half years old. There is currently both an Information Assurance/Cyber Defense major and a minor.
Michigan aims to be one the nations leaders in cybersecurity through initiatives like the Regional Cyber Education Collaboration, which envisions a collaborative between the higher education community and key private sector partners to address the widening gap between the supply of skilled cybersecurity professionals and the demand for those skills, according to www.merit.edu/cybered/.
The long-term goal is to provide a robust cybersecurity curriculum to institutions throughout the state of Michigan via a mix of face-to-face and distance learning courses, at 2-year and 4-year colleges. NMU is a member of the Regional Cyber Education Collaboration along with other schools like Central Michigan and Wayne State universities.
"It's a growing field so even if you aren't interested in computers, but you're tech-able, it's a great place to be going forward," Abbott said. "We're just now starting to see a ramp up in hiring and it's just going to get much quicker in the next couple of years.  
---
Initiatives stipulated by DHS for greater cyber defense
Nearly one in five Americans has been a victim of a cyber crime and the economic impact as a result of these attacks is devastating.
Cyber attacks cost the average U.S. company more than $15.4 million per year, according to the National Initiative For Cybersecurity Careers and Studies (NICCS) website.
Because of this a greater priority has been placed on strengthening cyber security and safeguarding U.S. citizens using the web. In this priority the U.S. is increasingly looking to higher education institutions to produce skilled and capable cyber security professionals able to defend American networks and infrastructure. The nation needs more cyber security professionals to protect networks in both government and private industry, according to NICCS.
There are over 200 top colleges and universities across 44 states and beyond that are designated centers of academic excellence for cyber-related degree programs, according to NICCS.
The Department of Homeland Security (DHS) and the National Security Agency (NSA) jointly sponsor the National Centers of Academic Excellence (CAE) program.
The program highlights specific 2 and 4-year colleges as well as universities based on their robust degree programs and close alignment to specific cyber security-related knowledge validated by top subject matter experts in the field. The program is a response to the increasingly complex and challenging cyber attacks facing the U.S.
The National Protection and Programs Directorate (NPPD) oversees the national effort to protect and enhance the resilience of the nation's physical and cyber infrastructure.
The Office of Cyber Security and Communications (CS&C) is responsible for enhancing the security, resilience and reliability of the nation's cyber and communications infrastructure. In such responsibility, the CS&C works to prevent or minimize disruptions to critical information infrastructure in order to protect the public, the economy and government services. The CS&C also leads efforts to protect the federal ".gov" domain of civilian government networks and to collaborate with the private sector—the ".com" domain—to increase the security of critical
networks.